2005 World Championships for Young Dressage Horses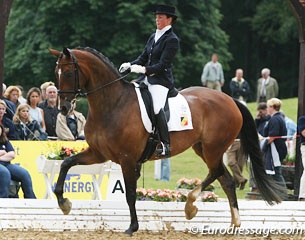 The Belgian selection trial for the 2005 World Championships for Young Dressage Horses will take place at Domaine Mon Souhait in Braine L'Alleud on Tuesday June 7, 2005. The trial starts at 17.00h
and twelve 5-year olds and six 6-year olds are entered to compete.
The combinations that will show at the selection trial are listed below. This is not the starters' list. That list will be published on Monday here on Eurodressage. Judges for the selection trial will be Mariette Withages, Jacques van Daele and Freddy Leyman
Eurodressage will be "on the scene" at this Belgian selection trial to take photos of the horses and to write a report on the trial. We are crossing our fingers that the two best horses per division will be chosen for Verden, and therefore, we want to be there to witness the selection process.
5-year olds
Ingrid Daeleman - Sasskent (Old, Sandro Hit x Akzent II)
Ludo Verbraeken - Aros (BWP, Saros vh Gestelhof x Donnerschlag)
Nick van Laer - Hennessy Xo (Old, Hohenstein x Welt Hit II)
Yves Gielen - Dancing Shadow (
Werner van den Brande - Taikoen (KWPN, Jazz x Zeoliet
Dominique Mohimont - War and Peace (Hann, Weltmeyer x Matcho AA)
Diana Smolders - Anais (BWP, Flemmingh x Wendekreis)
Kaatje Debie - Anakonda (BWP, Ferro x Rubinstein)
Angelique Hostyn - Don Jovi (Hann, De Niro x Donnerhall)
Leen Cools - Aros vh Gestelfhof (BWP, Saros x Calypso)
Ria Loots - Afrodite (BWP, Saros x Wendekreis)
Ria Loots - Beau Geste (Hann, Weltmeyer x Rubinstein)
6-year olds
Stefan van Ingelgem - Withney vh Waaihof (BWP, Ferro x Balzflug)
Catherine Bacqville - Miss McCartney (Westf, Mailander x Werther)
Jeroen Devroe - Sierappel (KWPN, Montecristo x Flemmingh)
Vicky Smits - Daianire vd Helle (Hann, Dream of Glory x Ritual)
Dominique Mohimont - Metta D'Or (Hann, Metternich x Weltmeyer)
Wilfried Mondelaers - Warkant vh Gestelhof (BWP, Ferro x Furioso)
Related Link
Eurodressage Coverage of the 2005 World Young Horse Championships