2005 European Dressage Championships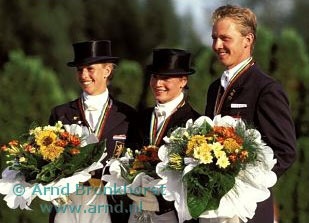 There was a fear amongst dressage riders that the Russian Equestrian Federation would hire old airplanes to fly the million dollar horses to the 2005 European Championships in Moscow this summer.
Fortunately, this is not true and it has been confirmed that the renowned transport company of Martin Atock will be doing the air cargo of the horses.
When a show organizes the European Championships, they have to pay 100,000 Swiss Francs to the FEI and pay half the cost of the transport of all horses (60) to the show. With Moscow already being in a tight financial position, it was uncertain to what extent they were going to cut corners. It was feared that they were going to be economical on the air transport fee. Luckily this will not be the case.
The 41-year old Irish Martin Atock is manager of the transport company Peden Bloodstock and he will fly the dressage horses from Maastricht (NED) on July 23 and 24, and will fly all horses back from Moscow on August 1 and 2, 2005. Atock has been the official carrier for the Olympic Games in Seoul, Barcelona, Atlanta, Sydney and Athens
Eurodressage On The Scene of the 2005 European Championships