2005 Bundeschampionate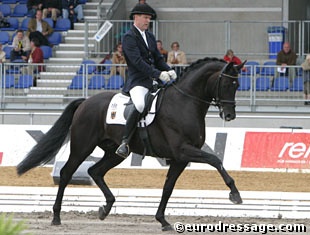 Oliver Oelrich, Heiner Schiergen and Dr. Ulf Möller were the winners of the Bundeschampionate qualifying classes held at the local show in Hamm-Rhynern on May 7, 2005.
The first group of 5-year olds was won by the Oldenburg stallion San Rubin (by Sandro Hit) under Dr. Ulf Möller. San Rubin, who sold at the 2004 PSI Auction to American Steven Browning, has remained in training in Germany and is now being campaigned by Möller. At the qualifier in Hamm, the pair scored 8.5 and won group 1. Möller beat himself as the second placed horse, Don Calando, an Oldenburger by Don Larino, was also ridden by Möller.
Lord of Loxley (by Lord Sinclair), however, was the 5-year old that achieved the highest score. Under the Heiner Schiergen he earned 8.7 and won group 2. He defeated Ingrid Klimke on the Westfalian stallion Damon Hill (by Donnerhall). Klimke received 8.4 from the judges and tied on second place with Oliver Oelrich. The latter rode the fantastic Hanoverian stallion Laudabilis (by Lauries Crusador x Warkant).
Oelrich also saddled the winning 6-year old, Dresemann (by Daidalos). The black stallion got 8.4 from the judges beating Anja Engelbart on the black stallion Rosario (by Rubinstein) who were 0.4 adrift from the winning mark.
Photo copyrighted: Astrid Appels/Eurodressage
Results
5-year olds - Group 1
1. Dr. Ulf Möller - San Rubin - 8.5
2. Dr. Ulf Möller - Don Calando - 8.2
3. Eva Möller/Nolden - Flor de Selva - 7.5
4. Arndt Bunge - Willow - 7.4
5. Ina Plaas Beisemann - Del Prado - 7.3
6. Sebastian Heinze - Indira Ghandi - 7.2
7. Margot Noffke - Lamborghini - 7.1
8. Sabine Grothe - Rhapsodie Queen - 6.9
9. Bryndis Trienekens - Le Noir - 6.8
10. Nicole Ruck - Charmeur - 6.7
11. Arndt Bunge - Dablino - 6.7
12. Pia Piotrowski - Roberto Cavalli - 6.5
13. Svetlana Klenke - Priboy - 6.3
5-year olds - Group 2
1. Heiner Schiergen - Lord of Loxley - 8.7
2. Ingrid Klimke - Damon Hill - 8.4
3. Oliver Oelrich - Laudabilis - 8.4
4. Heiner Schiergen - Rousseau - 8.3
5. Michael Klimke - Calinus - 8.2
6. Helen Langehanenberg - Donlino - 8.1
7. Stefanie Kerner - Royal T - 8.0
8. Stefanie Kerner - Rascada HS - 7.5
9. Oliver Oelrich - Argentina - 7.3
10. Marlies Brakemper - Rob Roy - 6.7
11. Helen Langehanenberg - Roman Lifestyle - 6.4
12. Peter Borggreve - Floribot - 6.3
6-year olds
1. Oliver Oelrich - Dresemann - 8.4
2. Anja Engelbart - Rosario - 8.0
3. Dr. Ulf Möller - Formidable - 7.6
4. Helen Langehanenberg - Lafayette Lord - 7.5
5. Helen Langehanenberg - Responsible - 7.4
6. Dr. Ulf Möller - Fitou E - 7.4
7. Marlene Klaassen - Farewell - 7.2
7. Miriam Henscke - Ravienne - 7.2
9. Claudia Krabbenhoft - Sir Bedo - 7.1
9. Heinrich Plaas Beisemann - Diomedes - 7.1
11. Arnd Erben - Flashdance - 6.8
12. Ilke Boening - Franklin - 6.6
13. Sebastian Heinze - Diktus - 6.5
14. Miriam Henscke - Don Capone - 6.4
15. Stefanie Kerner - D'Accord - 6.0
15. Sabine Ruben - Wonderlight - 6.0
17. Claudia Krabbenhoft - Roh Magic - 5.9
17. Wim Vissers - Funds Kerl - 5.9
19. Heike Plaas Beisemann - Wareika - 5.7
19. Christopher Putz - Piladoru - 5.7
Back to the 2005 Bundeschampionate Index