2005 European Dressage Championships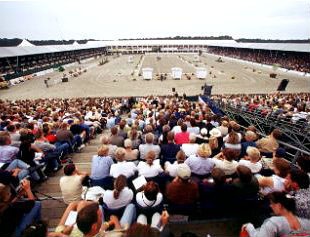 Stichting Outdoor Gelderland has notified the FEI that they are interested in hosting the 2005 European Dressage Championships in The Netherlands, if Moscow is unable to organize the Championships.
Because of financial problems and the recent election of a new president at the Russian Equestrian Federation, the Russian organisational committee for the 2005 European Dressage Championships are dealing with critical problems. It is uncertain twhether Russia will solve its problems in time. The Championships have already moved venue in Moscow -- much to the concern of the FEI -- from the city centre to the old 1980 Olympics' stadium, which is no longer in top condition.
German Ullrich Kasselmann notified the FEI last week that he is willing to take over the organisation, if Moscow doesn't pull through. Hof Kasselmann in Hagen, Germany, has already been the setting of numerous European Pony Championships and CDI shows and can easily facilitate a European Dressage Championships on its yard.
Today, the Dutch are counter striking by offering the FEI to host the Championships in De Steeg near Arnheim, The Netherlands. Stichting Outdoor Gelderland and Paul Schockemohle Marketing are hosting an international show jumping show there July 14-17, 2005, and have the infrastructure to accommodate the European Dressage Championships at the same time with the CSI.
The FEI Dressage Committee gathers in London on Friday May 20, 2005, where they will discuss all these issues.
Image copyrighted: Arnd Bronkhorst