2005 European Dressage Championships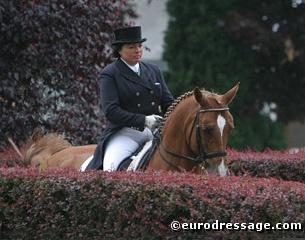 The Russian Equestrian Federation is having major problems organizing the 2005 European Dressage Championships in Moscow, July 28 - 31, 2005. Fortunately, German Ullrich Kasselmann has offered to host the championships
at his yard in Hagen, Germany, as back up plan in case Russia is unable to pull together the Championships.
"We've received a proposal from Mr Kasselmann that the European Championships can be held in Hagen, but so far nothing has been decided yet," FEI Dressage Committee chairwoman Mariette Withages told Eurodressage on the phone from South Africa.
The Russian Equestrian Federation recently elected a new president and the location of the European Championships moved from the city centre of Moscow to the old, 1980 Olympic Games' venue 40 minutes outside the capital. With no room to house all the grooms, riders, officials and spectators at the only hotel near the old Olympics' venue, the organisation of the 2005 European Championships is dealing with critical problems.
"Judge Markowski is currently in Moscow investigating what went wrong. We'll know more on Tuesday," Withages explained. It is not the first time that the European Championships moved locations. In 1991, the event moved from Lipica, Slovenia, to Donaueschingen, Germany.
More news on the location and organisation of the 2005 European Championships following next week.
Photo copyrighted: Astrid Appels/Eurodressage
Related Link
Eurodressage Coverage of the 2005 European Championships