2005 Bundeschampionate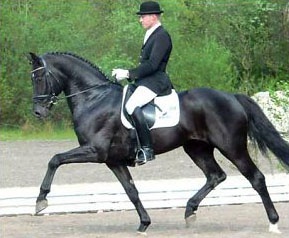 The first qualifier for the 2005 Bundeschampionate (German Young Horse Championships) was held in Bremen, Germany. Winners of the qualifier tests were Rusty, Royal Highness and Insterburg who took highest honours in the 5 and 6-year old Dressage horse classes.
Winning Group 1 in the 5-year old division was Holga Finken aboard the Hanoverian licensed stallion Rusty (Rubinstein x Weltmeyer). Finken scored 8.80 and got the best score out of the two 5-year old groups. In Group 2, Hannes Baumgart topped the leader board with the black Royal Highness (Regazzoni x Dream of Glory).
The 6-year old division was won by the Trakehner bred Insterburg, a Hohenstein x Giorgio Armani. Riding his first 6-year old test in his life, Insterburg scored 8.80 under Carola Koppelmann.
Photo Royal Highness - copyrighted: Mareen Lucas.
5-year old Dressage Horses - Group 1
1. Rusty - Holga Finken - 8,80
2. His Highness - 8,60
3. Rudi XXL - 8,30
4. Big Brother - 8,00
5. Do it my way - Miriam Henschke - 7,80
6. Love Dream - 7,70
6. Don Aurelio - 7,70
5-year old Dressage Horses - Group 2
1. Royal Highness - Hannes Baumgart - 8,70
2. Dainty Diva - 8,50
3. Allerbeste - 8,20
3. World of Love - 8,20
5. Riverside - 7,80
6-year old Dressage Horses
1. Insterburg - 8,80
2. Donic - Birgit Wellhausen/Henschke - 8,70
3. Weissager - 8,20
4. Fitou - Bianca Kasselmann - 8,00
5. Sir Willson - 7,80
6. D'Accord - 7,70
Back to the 2005 Bundeschampionate Index