2005 World Cup Finals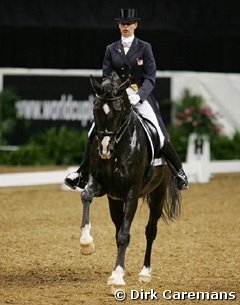 Anky van Grunsven of the Netherlands won her seventh World Cup Final during the FEI Offield Farms World Cup Final. Van Grunsven and the 11-year-old Hanoverian gelding, Salinero, performed before a sold-out crowd of more than 11,500.
The pair scored a total 86.725% with four artistic scores in the 90s. "I was proud of my horse," she said. "It's great to have two Dutch riders here. I'm really happy."
Van Grunsven's score was a new freestyle record, beating her previously held 86.05% achieved at the 2000 Olympic Games riding Bonfire. "The scores are slowly getting higher," she commented. "A lot of riders are now on this high level. I can't sit back and think it's easy."
Edward Gal, also of the Netherlands, came in second to his trainer riding Lingh. Gal and the 12-year-old Dutch Warmblood stallion received artistic scores in the 90s from three of the five judges for a final score of 85.225%. The crowd uncharacteristically broke out in applause during his one-tempis on a circle. "I don't remember the clapping," he said. "However, it made Lingh go even better. I liked it!"
U.S. favorite and 2003 World Cup Champion, Debbie McDonald of Hailey, Idaho, and the 14-year-old Hanoverian mare, Brentina, came in third with an 83.45%. McDonald broke out in a huge grin as she rode down centerline to "R-E-S-P-E-C-T" with the crowd clapping along with the music. The audience was out of their seats before she could even make her final salute. "Obviously I was having fun," she said. "My goal was to bring fun, not only for myself but for the audience. I think I achieved my goal."
American Robert Dover of Wellington, Florida, riding FBW Kennedy, came in fourth place with an 80.1%. Leslie Morse of Beverly Hills, California, riding Kingston, took sixth place with 78.475%, and Guenter Seidel of Del Mar, California, riding Aragon, placed 12th with a 70.650%.
President of the ground jury, Uwe Mechlem, of Germany, said, "It was very difficult to find the winner. The level of riding was unbelievably high. After seeing each ride, you think it can't be beaten, then the next and the next. It is frustrating but exciting."
Judge Mariette Withages said, "I thought this was more difficult to judge than in Athens because of the level and the small differences between riders."
Mechlem said Van Grunsven's music and choreography set her apart from the rest. "In the end, I gave her a 10 for music. The combination of horse and music couldn't be better. The style of the music fit the horse and the movements were in the right moment. Anky did it perfect."
Results—FEI Offield Farms World Cup Final 
Rider Horse Country Score
1. Anky van Grunsven - Salinero - NED 86.725
2. Edward Gal - Lingh - NED 85.225
3. Debbie McDonald - Brentina - USA 83.450
4. Robert Dover- FBW Kennedy - USA 80.100
5. Andreas Helgstrand - Blue Hors Cavan - DEN 78.500
6. Leslie Morse - Kingston - USA 78.475
7. Jan Brink - Bjorsells Briar 899 - SWE 77.375
8. Hubertus Schmidt - Aramis - GER 77.200
9. Sven Rothenberger - Barclay II - NED 75.250
10. Carl Hester - Escapado - GBR 73.475
11. Lone Joergensen - Ludwig G - DEN 72.275
12. Guenter Seidel - Aragon - USA 70.650
Photos copyrighted: Dirk Caremans
Eurodressage Coverage of the 2004-2005 World Cup Finals