2005 World Cup Finals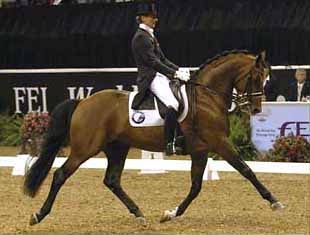 It opened with a blaze of fireworks and closed in a blaze of glorious excitement as a packed arena cheered Holland's Edward Gal home to victory in the first leg grand prix of the FEI World Cup Final in Las Vegas.
Gal claimed victory over reigning champion Anky van Grunsven, his trainer, with a superb test from Lingh that brought the 10,000-strong crowd to their feet in appreciation. The judges awarded the pair's performance a total 78.625 over van Grunsven and Salinero's 78.00 per cent.
"Lingh felt so easy. He reacted to the smallest of aids," said Gal. He had to endure much jovial leg-pulling from his trainer who said: " I help him and he beats me! Where's his respect?" Gal riposted: " I've got to keep her sharp somehow!"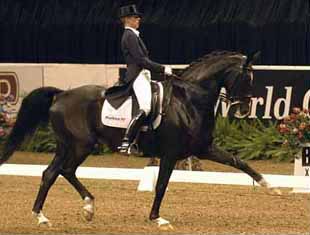 It was rather Salinero who was sharp in this hot-bed atmosphere where he made a few uncharacteristic mistakes. Anky blamed herself for the lapse in the one-tempi changes but was generally pleased that her 11-year-old champion was calmer in his test than he had been in the previous day's practice session, and that he's going the right way in his progress to Saturday evening's freestyle finale.
The cadre of four US riders received a fabulous welcome from the crowd but it was the duo of Debbie McDonald and the beautiful Brentina who gained third slot just ahead of Robert Dover's fluent performance with FBW Kennedy. Peggy Thomas' Brentina, who won the 2003 final for McDonald, performed with harmony, grace and ease. "She felt wonderful" said a delighted McDonald. " Brentina feels really strong in herself and she tried so hard for me." She welcomed the crowd's enthusiastic and supportive response and hopes that on Saturday evening her new music score will encourage spectators to join in for the last centre line and " really have a good time".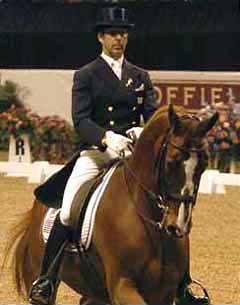 Dover, the six-time Olympian and one time winner of the World Cup Western European League said of Jane Clark's chestnut" " When he is not nervous, as his rider you never doubt that he is with you. I had a wonderful ride."
The one cloud over the event was the tragic withdrawal of Isabell Werth's veteran Antony FRH, who went lame suddenly just before the vet's inspection. The German rider and former champion had hoped to retire her 19-year-old veteran of no less than seven World Cup Finals after a last performance here. Werth's misfortune freed a berth for Canada's Evi Strasser who was here with Quantum Tyme for the supporting invitational class.
The top twelve from today's FEI Grand Prix go through to the Freestyle on Saturday, the starting order determined by the grand prix results, while the six remaining riders will compete in the B Final tomorrow. The standard was superlative, with thirteen riders gaining over 70 per cent. But the star prize must go to the spectators, who ensured this was the most exciting grand prix atmosphere the FEI World Cup Dressage finalists have ever experienced.
Text By Bernadette Faurie
Photos copyrighted: Roz Neave of the Horse Magazine
Eurodressage Coverage of the 2004-2005 World Cup Finals