2005 World Cup Finals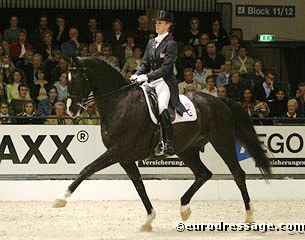 In a dramatic climax to the FEI world Cup Dressage Western European League, the final places for the 2005 FEI World Cup Final in Las Vegas have been decided in Dusseldorf.
Reigning champion Anky van Grunsven, who won the first of her record six World Cup titles ten years ago on US soil in Los Angeles, confirmed her unrivalled status by winning this final qualifier on 84.42 per cent on Salinero. She now goes to Las Vegas having fulfilled the rule to ride two qualifiers, with victory in both cases.
Germany's Isabell Werth, another former title holder, leapt to the top of the Western European League standings to finish on 67 points, relegating the long term leader Ann- Kathrin Linsenhoff to second. Werth rode the sensitive Satchmo superbly to the runner up position. " I was so happy with him today", she said. " In the past few months he has developed so much. He still needs more confidence, but today he could produce the power without going over the top. The most important thing for him now is to be more consistent."
While 11-year-old Satchmo will be concentrated on this year's European championship, it will be Neumunster winner Antony FRH who goes to Las Vegas in a swansong for the 19-year-old veteran who holds the record for World Cup participation. "After sixteen years together I can't imagine competitive life without Tony", Isabell commented, " but this will be a beautiful way to end his career."
Hubertus Schmidt booked his Las Vegas ticket with third place here to finish fourth in the standings. Schmidt plans to ride his partner here Aramis in the Final. He first rode Aramis as a six-year-old taking him to win at small tour level. Then the horse departed for the US with his owner until last October, when Schmidt again took up the reins. " Aramis was so relaxed and good to ride in both tests" said Schmidt, " He does not have much experience at this level, and I was not so happy with his piaffe today having to compromise to keep him relaxed, but I know the key to getting it better."
Fourth place secured Sweden's Jan Brink his Las Vegas start with Bjorsells Briar. " He's in great shape and I'm especially pleased that he has been really good in the grands prix in his four qualifiers," said the Swedish number one who is currently keeping Briar fit and interested with plenty of riding in the forest before the long trip to the USA.
For Denmark's Lone Joergensen and Holland's Sven Rothenberger, the trip to Duesseldorf paid off with confirmation that both had won through to the Final, in eighth place on equal points.
Judge at C Dr Volker Moritz commented: " The winner produced a breathtaking, world class performance and with eleven horses scoring over 70 per cent in the freestyle, we saw excellent dressage sport."
Roll on Las Vegas!
Western European League Final Standings after 9 competitions (plus 3 Central European League) 
1, Isabell Werth GER 67 
2, Ann Kathrin Linsenhoff GER) 65 
3, Andreas Helgstrand DEN 64 
4, Hubertus Schmidt GER 61 
5= Carl Hester GBR and Edward Gal NED 60 
7, Jan Brink SWE 57 
8= Sven Rothenberger NED and Lone Joergensen DEN 50
The US League Final Freestyle takes place at Burbank, California, tomorrow April 3rd. With nine riders qualified through the Western European League, three wildcards will now be allocated on or after Monday April 4th
Photo copyrighted: Astrid Appels/Eurodressage
Eurodressage Coverage of the 2004-2005 World Cup Finals