2005 Sunshine Tour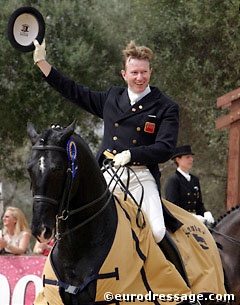 For British Grand Prix rider Wayne Channon the 2005 Sunshine Tour CDI couldn't have ended better. Aboard his KWPN licensed stallion Lorenzo (by Ferro x Wolfgang), Channon claimed two distinct victories during the third and final show weekend
at Montenmedio in Vejer de la Frontera, Spain. He aced the Grand Prix with 70.500% and reigned supreme in the Grand Prix kur to music with 72.70%. Furthermore, he became the 2005 Sunshine Tour Grand Champion with the highest average mark after three weekends of CDI showing.
End February 2005, Channon loaded up four horses for a four-day drive from Belgium to South Spain in pursuit of a new competitive challenge. With two Grand Prix horses -- Kasjmir and Lorenzo CH -- registered for three weeks of intense showing in front of the critical eyes of a handful of O-judges, Channon definitely aimed at raising the bar.
The first two Sunshine tour weekends, which turned about to Torrential Rain Tour weekends, became a neck and neck race between German Olympian Alexandra Simons-de Ridder and Channon. Both riders showed their worth and claimed an equal amount of victories in the big tour.
Simons-de Ridder and her Hanoverian gelding Wellington dropped out the third weekend, leaving Channon shy of his strongest contender for the blue. Nonetheless, Channon and his black pearl Lorenzo put down apical performances the third weekend, which could probably have bested De Ridder's rides anyway.
Channon Masters the Grand Prix
With a field of 30 international riders in the Grand Prix, the pressure was definitely on.
Canadian Christilot Boylen and French rider Constance Menard-Laboute were on Channon's heels, but their score got stuck at a 68% mark, while Channon soared up to 70.500% for a very clean ride in which the piaffe-passage and pirouettes were the usual highlights. In the first extended trot, Lorenzo broke into canter and without this little hiccup Channon's score could have achieved a virtual 72%.
O-judge and FEI Dressage Committee chairwoman Mariette Withages was very impressed with Lorenzo's improvements since last judging him this winter. "Lorenzo is a real outdoor show horse," said Withages, "he has really improved a lot, especially in his elasticity." O-judge Uwe Mechlem concurred, adding that "Lorenzo was very well presented and he showed an excellent piaffe-passage tour."
Christilot Boylen finished in runner-up position with the bay mare Lucky Lemon. The refined Hanoverian mare has a delightful passage and showed lovely extensions, but the piaffe is definitely a weak point. Boylen couldn't not maintain impulse in the piaffe and Lucky Lemon tensed up and blocked in one piaffe reprise. Their 68.500% placed them second.
"Lucky Lemon got many high marks, but there was tension and resistance at the beginning of the test," Withages stated. Mechlem praised Boylen's professional presentation. "This is a very experienced show horse, elegant and well presented."
Constance Menard-Laboute and her Gelderland bred mare Lianca showed a phenomenal piaffe-passage tour with the mare extremely attentive to the rider's aids. A score of 68.208% placed Laboute third. "Lianca is a super nice horse, but doesn't look like the dressage type," Mechlem said. "She was well ridden and is always very consistent in her performances."