Brazilian Dressage News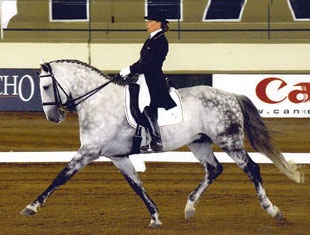 Brazilian dressage rider Pia Aragao has been contracted by Lusitanos Interagro to train and compete their horses in the future. Aragao, who is the 2002 Brazilian Dressage Champion and who has worked for Haras Boa Fé for almost 19 years
, is taking a new turn in life by moving to Interagro in Itapira, Brasil.
"It was a very difficult decision to accept the offer as I have been working for Haras Boa Fé for so long and I really love this place up here in Teresópolis and the Stewart family, but I have a lot of plans for my future and it will be easier for me to achieve them with the support from Interagro," Aragao commented.
Pia started riding horses professionally in 1982. She was then based in Germany and worked with Axel Wockener. In 1985 she moved to the States to train with Normal Dello Joio, followed by a year of apprenticeship at Francois Mathy's place in Belgium. In 1987 she was hired by Pablo Stewart to work with him on his project of making it to the 1987 Pan Am Games. She has been with the Stewarts ever since.
"At this moment I'm very sad to leave this fantastic place which I been a part of so long time, but I am also very excited to start with something new and the possibility to compete abroad. I will bring BF Phantom, Havis Raris HT and Dominik GV with me and continue compete them as usual in the shows together with the horses from Interagro," Aragao explained.
Pia and Pedro Aragao started their job at Interagro begin April 2005 and are currently working hard at organizing the Lusitano Collection's 1st International Exhibition taking place in Itapira, Brazil, July 26th to 29th, 2005. The event will focus on the Lusitano breed in all its aspects and attracts a large audience including over 100 foreign guests. More information can be found at the official website: www.lusitanocollection.com
Related Links
Lusitano Interagro: Official Website - www.lusitano-interagro.com
2004 CDI Porte Alegre, Brazil