Irish Dressage News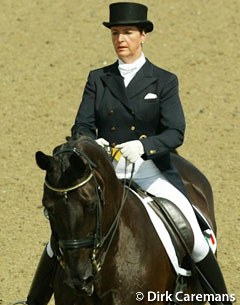 Anna Merveldt Steffens is the winner of the "Irish Field" Dressage Rider of the Year Award for 2004 it was annnounced on Saturday 5th March 2005. This is her fourth time to win the award in the last five years.
Anna finished the 2004 season in the top 80 in the FEI/BCM World Dressage Rankings. She had six top ten finishes at Grand Prix level at CDI big tour shows in Europe in 2004.
Merveldt Steffens placed third in the Grand Prix Kur when scoring 70.6% with Hera at the CDI*** in Piber, Austria last September. The same combination won the national Grand Prix class at Kottingburnn in Austria earlier in the season.
Previous winners of the "Irish Field" Dressage Rider of the Year Award:- 
1997 - Yvette Truesdale 
1998 - Heike Holstein 
1999 - Katy Price 
2000 - Anna Merveldt Steffens 
2001 - Anna Merveldt Steffens 
2002 - Anna Merveldt Steffens 
2003 - Heike Holstein
Photo copyrighted: Dirk Caremans
Related Links
Anna Merveldt Steffens and Fosbury
Anna Merveldt Steffens Wins Irish Field Award
Anna Merveldt-Steffens Wins Irish Field Award For Second Time
"Irish Field" Hattrick for Anna Merveldt-Steffens