2005 World Cup Finals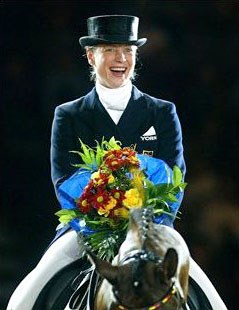 Wow, what a come back for Isabell Werth!! Aboard her 19-year old Anthony FRH, Werth rode a freestyle of a lifetime and won the Grand Prix Kur to Music at the CDI-W Neumunster.
It's been a long time since Werth was in the spotlight in such a way. By riding a kur with a very high degree of difficulty and by making no mistakes, Werth earned the top score from the judges. On the final line in her test, she made a piaffe pirouette with one hand and waving to the crowds with the other in the rhythm of the applause. She won not only the hearts of the judges, but also those of the crowd. Werth placed first with two judges and three ranked her second. Her overall score of 79.38% was the best of the day. She beat second placed Jan Brink on Bjorsells Briar (78.85%)
Isabell Werth and her veteran Antony FRH snatched victory from challengers Jan Brink and Bjorsells Briar, with the Danish duo of Andreas Helgstrand and Blue Hors Cavan in third.
The 19-year-old Hanoverian by Argument, who has competed in more World Cups than any other horse including no less than six Finals, certainly rose to the occasion. "It was as if 'Tony' just heard the music and put such fire and emotion into it - he was outstanding and really fighting for it", said a delighted Werth. " It was an amazing feeling, he just got bigger and bigger!"
Werth now stands in seventh with 46 points jointly with Denmark's Lone Joergensen, (who finished seventh here on Ludewig G). Their German pair's next show will be Indoor Brabant next month, and Werth would love to ride Antony in Las Vegas and then retire him with full honours. "It is difficult to make long term plans with him at his age, but if he is in the shape he is today, that would be my dream."
Another bound for Indoor Brabant to survey his Las Vegas chances is Jan Brink. "Briar feels very fit and fresh and I could really ride him forward here", said Brink. Having made small changes to his freestyle before Athens, Brink decided afterwards to return to the original medal-winning programme that worked so brilliantly for them at the Hickstead European Championships. "We made a mistake in the two-tempis but otherwise he worked really well," Brink added.
Andreas Helgstrand overcame a 'four-letter' grand prix ride to finish third with Blue Hors Cavan. "Cavan was really tense and behind my leg in the grand prix" (they placed 9th) "but today, apart from one mistake in the one-tempis, everything else was super."
Judge at 'C' Dr Volker Moritz commented: " It was a very exciting class and good sport. The first three riders were very close and we saw some very good horses. Antony was clearly in a very good mood today!" On the atmosphere, Dr Moritz added: " I have been judging here for 30 years and there is always a spectacular audience. They are horse people, and they know the business."
The result of the FEI Freestyle to Music qualifier overhauled the form shown in the grand prix qualification, where Brink and Germany's Martin Schaudt tied for the top slot after Hubertus Schmidt was eliminated for entering the arena with his whip. The rule was introduced on January 1st and Schmidt, who had hoped to part-qualify his second string ride Aramis here, was the second victim this year.
The Dutch Federation substituted Sven Rothenberger and Barclay II just before the show, and Ann Kathrin Linsenhoff called it a day with Sterntaler-Unicef after contesting the Intermediaire II. It may be only by a point now, but she still holds the top rank in the standings on 65 points.
The next FEI World Cup dressage qualifier takes place at Indoor Brabant, 's-Hertogenbosch, Holland on March 17-20.
by Bernadette Faurie
Image copyrighted: Baumann
Eurodressage Coverage of the 2004-2005 World Cup Finals