American Dressage News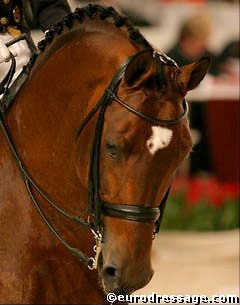 The KWPN licensed stallion Idocus is back in training with his old rider Courtney King. In March 2001, King had to part with her stallion, as Idocus' owner Christine McCarthey decided to move the bay over to Holland for breeding reasons.
There, he was trained by Marlies van Baalen and proved to be more successful in the Dutch show ring than on the breeding market. Van Baalen competed Idocus at the 2004 Olympic Games and accomplished everything that was lay within the potential of the horse.
Fortunately for King, she gets the opportunity to continue Idocus' show career in the U.S. now that he has returned to his home turf. American former young rider Courtney King, is trained by Lendon Gray, who trained Idocus to FEI level .
"Idocus just arrived in the US and is now in the one month breeding (CEM) quarantine in New Jersey," Lendon Gray told Eurodressage. "Courtney has started riding him to get him fit again. It appears he hasn't done much lately and has lost some muscle. Otherwise he seems to be happy and healthy."
Idocus (Equador x Zonneglans) will be standing at stud in the U.S, but will combine his breeding duties with a show schedule. "Courtney had hoped to be able to try for the US Freestyle Championships and our National Championships, but it took too long getting him here to the US. I doubt he will be fit enough," Gray explained.
Eurodressage definitely hopes to see Idocus in the CDI ring at 2005 Dressage at Devon in September 2005.
Images copyrighted: A. Appels - Dirk Caremans
Related Links
Intestinal Problems for Idocus in Denmark
Marlies van Baalen and Idocus
Idocus In Training with Marlies van Baalen