2005 FEI Freestyle Forum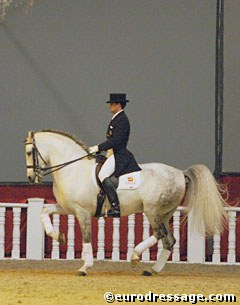 At the end of the Freestyle Forum, several 'miscellaneous' topics were briefly touched upon. Jan Bemelmans talked about wearing more colourful uniforms, which represent the colours of the rider's nationality, just like other athletes do.
Withages disclosed that haute couture fashion designers such as Hermes, Karl Lagerfeld, and Stella McCarthney, have been contacted to design new fashionable attire for the riders and judges. At the end of the year, a fashion show will be held at a big competition (date + location not yet decided).
To Bemelmans, the current uniform "did not show the beauty of the pretty young ladies" that are now competing at international shows. Mariette believed that we are not really selling our sport by having the riders come to the press conference in a top hat and tails, with messy hair and a sweaty look.
It is definitely worth considering to allow riders to appear at the press conference in their sponsored outfit. Sponsors will get more on- screen visibility and the sport will financially become more attractive to them.
In reference to the usage of bandages at shows, Stephen Clarke said that they look pretty on the horse, but they will need to be checked by a ground crew. However, on the practical side bandages are non desirable in the show ring. "What if one of them comes off during a test?" Clarke wondered. Bandages in the ring, not a good idea.