2004-2005 KNHS/KWPN Stallion Competition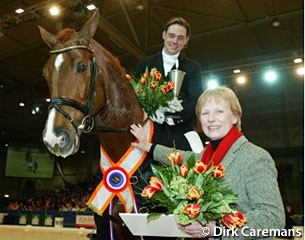 Sandreo, Scandic and Rhodium have become the grand champions of the 2004-2005 KWPN/KNHS Stallion Competition, of which the finals were held this week at the 2005 KWPN Stallion Licensing in 's Hertogenbosch, The Netherlands.
At First level (L-level), the dark bay Sandreo (by Sandro Hit) was unbeatable under Hans Peter Minderhoud. The judges praised this horse for his clear walk, for his beautiful front leg usage and lovely self carriage in trot and for his clean canter. With 83 points, Sandreo became the winner of the class and Champion of the 2005 Stallion Competition at L-level.
Placing second at first level was Trento B (by Krack C), who scored 9.5 for conformation and 8.5 for his trot work. Only the walk could have been a bit larger. Kim Leduc and Trento B received 79 points from the judges. In third position were Tuschinski (by Krack C) and Yvonne Copal. This combination stood out with its overall appearance and in the trot, but the canter was a bit tense and the walk could have been more ground covering.
At M-level (Second level), the Scandinavian bred Scandic (by Solos Carex) was the overall winner. Remy Bastings rode a wonderful trot tour with this chestnut licensed stallion, which judge Toine Hoefs described as "Scandic's trot is wonderfully carried with a fantastically active hind leg." The stallion scored 9.5 for that gait, but lost many points in the walk (6.5). Fortunately, the canter was good again and Scandic took the overall lead in the finals and championship.
In second place were Edward Gal and San Remo (Wolkentanz) followed by Karen Galema on Skydancer (by Florestan). Absent at the KWPN Stallion Competition Finals was the 2004 World Champion Florencio. The bay stallion won three out of four qualifiers but was not allowed to compete in the finals because he is German branded.
At Z-level (Third level), Hans Peter Minderhoud reigned supreme on Rhodium (by Ferro). The black stallion was a bit tense in the walk, but showed a supple trot and nice half passes. According to judge Wim Ernes, Rhodium's canter was his best gait. "His canter is so beautifully uphill and through. Every stride is superb," Ernes said. He scored 9.5 for that gait.
Pardon (by Jonggor's Weyden) placed second. This horse was good in the walk and canter but did not show enough power in the trotwork. Prestige VDL (by Silvano N) ended in third place. This bay stallion showed a nice extended walk but there was some loss of rhythm in the collected walk. His trot was powerful and uphill (score 8.5) and the canter showed much quality and balance.
More detailed scores and information about the 2005 KWPN/KNHS Stallion Competition can be found at the KWPN website
Image copyrighted: Dirk Caremans
Related Links
Hans Peter Minderhoud Has Tight Grip on Goes 
German Bred Stallion Sandreo, Florencio and Riverdance Win Third Leg in KWPN Stallion Competition
Sandreo, Scandic and Rhodium Win Second 2004/2005 KWPN Stallion Competition 
Tuschinski, Scandic and Rhodium Win First 2004/2005 KWPN Stallion Competition