2004-2005 KNHS/KWPN Stallion Competition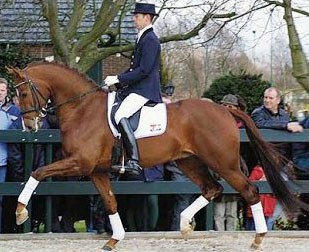 Holland's leading young horse rider Hans Peter Minderhoud held a tight grip on the entire Goes show by winning all three divisions in the fourth leg of the 2004-2005 KWPN/KNHS Stallion competition in Goes, The Netherlands.
Minderhoud took highest honours on Sandreo, Florencio and Rhodium.
At First level (L-level), Minderhoud and Sandreo (by Sandro Hit) charmed the judges with his 8.5 scoring canter and 9.5 earning general impression. Judge Rien van der Schaft commented that Sandreo could have scored more than a 9 for self carriage if he had shown a quicker hind leg in the trot. Kim Leduc and Trento B (by Krack C) continue to improve show after show. Scoring 9.5 for self carriage and general impression, the duo placed second. Minderhoud and Tango (by Jazz) placed third (pictured right).
KWPN breeding expert Dirk Willem Rosie claimed that world Champion Florencio (by Florestan) and Scandic (by Solos Carex) are equals in trot, canter, self carriage and suppleness, but it was Florencio who took the lead because of his better walk. According to Eurodressage, Florencio is a far superior young horse to Scandic. Florencio and Minderhoud won the M-level class (Second level) and Scandic placed second under Remy Bastings. Edward Gal and San Remo (Wolkentanz I x Volturno) finised third.
At Fourth level (ZZ-level) Minderhoud dominated with Rhodium, a black Ferro offspring who scored lovely traversal moveements and a well balanced trot. Only the walk needed more improvement. Minderhoud scored 148.5 points. Aboard Riverdance (Wolkentanz I x Hill Hawk xx) Remy Bastings placed second with 140 points. Aboard Pardon (Weyden x Amor) Bastings ranked third with 136.5 points.
Source: Dirk Willem Rosie
Image copyrighted: Peggy Leijssen - courtesy: Uytert.nl
Related Links
German Bred Stallion Sandreo, Florencio and Riverdance Win Third Leg in KWPN Stallion Competition
Sandreo, Scandic and Rhodium Win Second 2004/2005 KWPN Stallion Competition 
Tuschinski, Scandic and Rhodium Win First 2004/2005 KWPN Stallion Competition