French Dressage News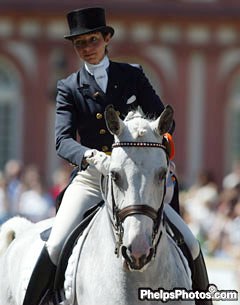 The French Equestrian Federation has contracted Monica Theodorescu to do a series of clinics at the National Stud in Les Bréviaires, France. Theodorescu has been training the French small and big tour riders with success the past year and this collaboration will continue in 2005.
The most recent clinic took place at Bréviaires January 5-6, 2005. The two-day training session consisted of individual warm ups followed by intensive 30 minute training sessions under the supervision of Theodorescu. Fluent in French, Monica gave very brief, short comments asking the riders to repeat the exercise when it went wrong, and allowing the horse to take a break in walk when the movement went fine.
Theodorescu's brevity in response surprised French equestrian reporter Sandrine D'Hondt. "These are Grand Prix riders," Theodorescu replied, "each rider has his own history and experience. I watch them, I look at what the rider and horse need and fix their mistakes. We're fixing problems which the riders are dealing with right now."
The Monica Theodorescu clinics are not open to all French riders and new riders are only occasionally accepted. Newcomer to the January clinic was Benedicte Fulop on her Haendel Roccio. All other riders have ridden up to three or four times in the 2004 clinics, such as Pierre Cannemela on Nadaza and Jean-Noël Mychalysin on Hohwald des Cloets. Especially the latter has made remarkable progress since the 2004 French Dressage Championships in October 2004. Hohwald showed a significant change in his looks with more kilos and muscles. The Gauguin de Lully offspring has gained a real 'Grand Prix look'.
Theodorescu noted that distinct progress was made in a time frame of three clinics. "You notice it right a way at the show in Mechelen, where Dominique D'Esme scored 69.425%," Theodorescu commented. Odile van Doorn and Dominique d'Esme, who normally ride in these French clinics, were not present this time because of their participation at the CDI-W Mechelen.
The next Theodorescu clinic will be January 19-20, 2005 in Les Bréviaires, France. "I will try to come more often in winter right before the start of the new show season," but during the show season, we'll have to see because I have other students and horses of my own to ride," Theodorescu commented.
Source: Sandrine D'Hondt
Image copyrighted: Mary Phelps/Phelpsphotos
Related Links
Odile van Doorn Reconquers Grand Prix Title at 2004 French Dressage Championships
Renaissance Fleur TSF Severely Injured 
Theodorescu and Renaissance Fleur Win 2003 CDI-W San Patrignano