2004 CDI-W Mechelen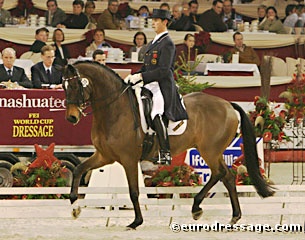 Carl Hester and Escapado held off all opposition to win their first ever FEI World Cup Qualifier in Mechelen. It was the first time a Briton has headed a World Cup Qualifier line up since 1991.
Escapado, whose spookiness at the start of the Grand Prix left the British pair in sixth place, raised his game to the music and while Hester had a long wait to see if their score of 74.50 would be enough, the British national anthem finally rang out across the Nekkerhal followed by a standing ovation from the crowd.
"It was amazing," said Hester, "Escapado found it a difficult arena in the grand prix - his eyes were popping out of his head! He's hot but doesn't usually get scared, but then it is the same for everyone. In the freestyle the one real error was mine, and he was great in the piaffe and passage. By the time the national anthem played though, he stood like a rock and watched the flag rise! The crowd was really lovely and I appreciated their support."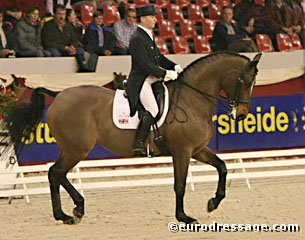 With Carl in the prize giving was Athens team mate Richard Davison, in third place after Gwendolen Mayer's Ballaseyr Royale produced a foot perfect test. "She was gorgeous", said Davison.
"There wasn't a single 'dodgy moment'. I didn't see Carl's test but when he told me he had gone well but with a few 'blips', I thought I'd really go for it, and 'Bird' was with me all the way."
Such was Hester's surprise at his triumph, he had no time to change his original plan to dash to the airport directly after the prize ceremony, so he left Davison to do the honours and collect his trophy, rug and prize money. He did, however, depart with a grin and the knowledge that he is now second in the Western European League standings on 50 points.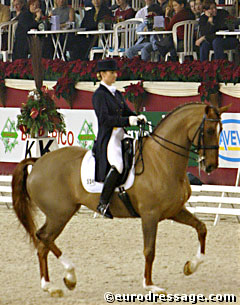 The British sandwich had a Swiss filling as Marie Line Wettstein gained her best international result to date with Le Primeur. "I'm singing like a bird," said the delighted Wettstein, whose daughter Amelie was also riding in Mechelen and gained a clear round in the pony jumping. The Swiss pair's freestyle, to Joe Cocker music, came closest to Hester's score on 74.10. Together for some eighteen months, Wettstein and Le Primeur will now contest Neumunster and while she would love to book a ticket to the Las Vegas Final in April she commented, "I'll try, but the main aim is to do our best and have fun. Leo's best quality is his character, and after my husband and children, he's the best thing that has happened to me in my life."
While some riders got the best belated Christmas presents, others fared less well. Spain's Beatriz Ferrer-Salat sadly had to withdraw before the competition when Beauvalais developed a cold, and Sven Rothenberger and Barclay II failed to reproduce their Grand Prix winning style in the freestyle where they finished fourth.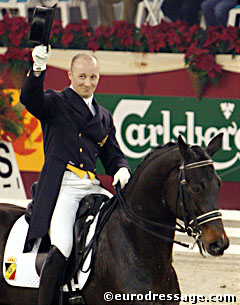 Belgium's sole representative Jeroen Devroe had the crowd in uproar when he rode Paganini into the arena carrying his whip. The luckless rider didn't hear the warning shouts and incurred elimination, but Ground Jury President Mariette Withages allowed the pair to perform for the home crowd anyway. It was particularly bad luck, as from January 1st a new rule states that riders will have to leave their whips in the collecting ring anyway!
Ground Jury President Mariette Withages commented: " It has been an exceptional day. The top riders rode well and to see new countries at the top is an evolution, although they have been building up for a long time."
Text by Bernadette Faurie 
Images copyrighted: Astrid Appels/Eurodressage.com
Related Link
Scores of the 2004 CDI-W Mechelen