2004 Global Dressage Forum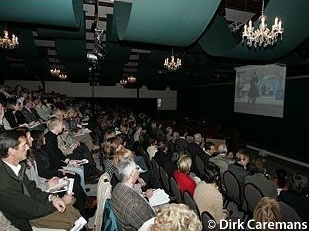 In the Happy Athlete Video Exercise, two minute video clips (free of mistakes) from the Kur to Music were shown of the six top placing horses at the 2004 Olympic Games in Athens.
Judges, trainers and the audience were asked to evaluate what they saw as 'the happy athlete'.
A panel in three groups (judges, trainers and the scientists) and the audience discussed Kennedy (Robert Dover), Wansuela Suerte (Hubertus Schmidt), Brentina (Debbie McDonald), Beauvalais (Beatriz Ferrer-Salat), Rusty (Ulla Salzgeber) and Salinero (Anky van Grunsven).
Salinero was unanimously placed first, because in the shown video clip (2 minutes, mistake free) the horse "was in harmony with his rider, waiting for the minimal aid, never being pushed, showing a friendly eye and facial expression, carrying the tail relaxed and keeping a steady, happy contact with the bit," according to Claartje van Andel, Dutch journalist on the scene.
There was more debate about the happiness of the second placed horse, Rusty. Judges Mariette Withages and Stephen Clarke, as well as trainers David Hunt and Kyra Kyrklund ranked the horse second on the happiness scale, but movement experts Van Breda and Rosie preferred to place Kennedy second. German dressage trainer Johann Hinnemann defended Wansuela Suerte as this mare was the epitome of harmony and friendliness.
Even though the 2-minute video clips shown at the Global Dressage Forum were a good demonstration of moments of harmony and competitive success between rider and horse, they were totally not representative of a "happy horse".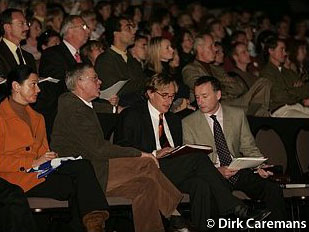 "I don't think the whole exercise with the 6 horses on video was fair or a good idea anyway," Kyra told Eurodressage. "If you look at the human athletes actually 'performing', they are not happy! They are concentrated and giving their best, but they are not "happy". They might be happy 'afterwards', if they have achieved their goal."
Kyra continued, "also some horses where shown in movements, that are easy for them to perform, others in movements that are difficult for them (even if they didn't make a "mistake"). Also the degree of difficulty in the kurs was different."
Sjef Janssen told Eurodressage that he agreed that Salinero was the happiest horse at the Olympic Games based on the 2-minute video clip. "If the experts agree on that, why would I have a different opinion," Janssen said.
When asked whether the video clips were representative enough to label a horse "a happy horse," he replied, "no it's not enough but the momentary shot is a good indicator of happiness. If one really wants to dig into this matter, long and thorough studies need to be done first by different groups, but it is a good initiative, which is a decent basis for further discussions and hopefully, in the future, for enlightening studies."
Text by Eurodressage (partly Mary Seefried Report / Horse and Hound) - Images copyrighted: Dirk Caremans