2004 Global Dressage Forum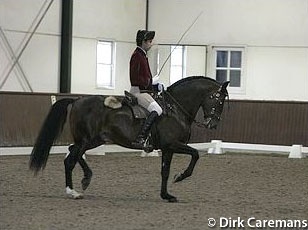 The next two presentations illustrated the spectrum from small beginnings to sustained success.
Carlos Lopes, leading a team from the Portuguese Equestrian Federation
, took delegates on a journey back to his country's deepest roots in the history of relationship between man and horse, and forward to a future ambition to participate in dressage sport with the Lusitano.
From displays of traditionally trained Lusitanos, German trainer Martina Hannover then gave a practical demonstration with Lusitano horses she had been coaching since she started doing clinics for the Portuguese Federation two and a half years ago.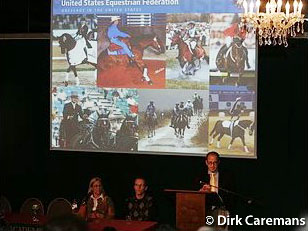 To follow, John Long, CEO of the United States Equestrian Federation, explained the structure, success, challenges and goals of the governing body of the fastest growing sport in the US, which was also the most successful equestrian nation of the Athens Olympic Games.
Guenter Seidel and Linda Zang backed up John Long's presentation at the forum.
Text by Eurodressage (partly FEI press release) - Images copyrighted: Dirk Caremans