2004 Global Dressage Forum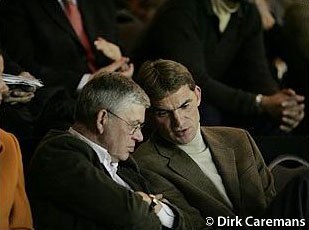 It may not (yet?) be quantifiable but the term 'happy athlete' was certainly explored in depth during the forum, as a marker and an aim for the dressage sport.
Attended by some 300 people, from international riders, trainers, judges and officials to national enthusiasts, it was a gathering of the dressage world. As Mariette Withages said in her opening address: "We should stick together, and not bend in the wind. Compared with the progress we can make together, the small discussions are peanuts."
Kyrklund responded that "The Global Forum is at least a good try to be more open and talk about things. It definitely is the best one there is," she said. However, Kyra did mention that, "It isn't that easy to talk "openly" about things, as most of the time people have their "pink glasses" on. If you criticize something, it is taken as if you try to talk down your competitors."
David Hunt, president of the International Dressage Trainers Club spoke for a lot of the delegates and echoed Kyra's concerns about the interpretation of the new rule: "The "happy athlete" is a good perception but it has its disadvantages — it can be misinterpreted very easily.
"The reality is that when FEI judges make something gospel sometimes they don't realize the message they've left behind."
He used as an example a recent judges' training seminar in the UK where the speaker said that horses should show no resistance in the mouth. Many trainee judges were left with the impression that an open mouth should always be penalized.
"But if judges start becoming over-critical on the mouth then riders will find ways to shut the horse's mouth up," he continued. "I'm pleading with the international judges to look at what they leave behind and how rule changes such as this may be interpreted in the real world."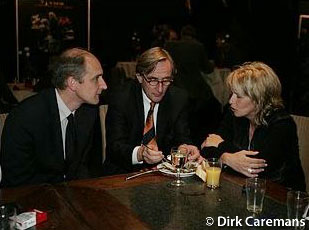 Journalist Claartje van Andel concluded that "a true winner is a happy athlete because he does something which is natural to him." This sounds all good and fine, but to what extent is dressage at an Olympic level a natural performance for a horse?
Let us review the FEI Rule (Article 401) again:
"the object of dressage is the development of the horse into a happy athlete through harmonious education"
What is harmonious education? Doesn't competitive dressage involve the training of horses by stretching their limits further and further?
Also, two qualities appreciated by the judges in the show ring are: happiness and brilliance. Unfortunately, these two factors do not go hand in hand. Horses that seem to be happy in the show ring, such as Brentina and Wansuela Suerte, distinctly lack in brilliance and get down scored because of that. Horses that are brilliant in the show ring and induce the wow-effect, seem to be tense, nervous and spooky.
"If we demand more and more and more 'expression' and 'extravagance' in competition, then we ARE going to push the horses more," Kyra told Eurodressage, "and at some point the tension gets obvious."
How can a spooky horse be considered happy? Isn't fear associated with harmony, happiness, steadiness and trust? How can horses that freaked out in the show ring at the Olympics (for instance, Salinero in the Grand Prix, Rusty in the Grand Prix Special) be labeled happiest and second most happy horse at the Olympics?
Furthermore, why was not, for instance, the correctness of the piaffe being discussed at this forum. Isn't the whole point of the Global Dressage Forum to discuss the current state of dressage, with Olympics being the pinnacle of showing what we want? How can a piaffe which is uneven behind, with one leg higher than the other, or with front legs opening up more than 70 centimeters be earning 8s and 9s? Isn't this a more critical issue than discussing happiness, a concept for which humans don't have a clear definition, not to mention for horses; a concept which has been at the basis of Philosophy and to which Plato and Aristotle could not find a suitable answer nor definition.
Albeit, the happiness discussion at the 2004 Global Dressage Forum seemed to have been refreshing and new. Hopefully it will lead to a new way of judging which encourages harmonious training of the dressage horse with as goal a little more happiness than brilliance.
Text by Eurodressage (quotes partly from Horse and Hound) - Images copyrighted: Dirk Caremans