Westfalian Breeding News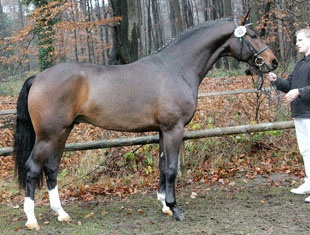 A Fidermark x Ravallo offspring became the Licensing Champion at the 2004 Westfalian Stallion Licensing in Munster-Handorf, Germany. Bred and presented by Hermann Schult, this dark bay Fidermark offspring is out of State Premium Mare Reine Freude
(Ravallo x Fruhlingstraum II) and stood out with his modern conformation and excellent gaits. This Fidermark son will be up for stud either at Gilbert Bockmann's or Klosterhof Medingen.
2004 Reserve Licensing Champion was Furst Grandios, a Furst Heinrich son out of Verband Premium Mare Gritt (Argentinus x Barsoi xx). The dark bay stallion was bred by Andreas Klinker and presented for licensing by Hildegard Elmerhaus. This young fellow will be up for stud at Hengsthaltung Schmidt.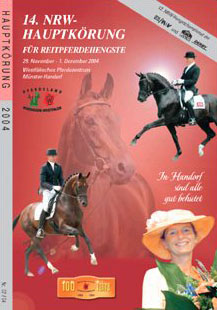 85 stallions were selected for licensing, 79 of them were actually presented in Munster Handorf. 57 (!!!) of them were licensed, 23 became premium stallion and 8 were nominated for the Champions' ring (Endring).
The quality of this year's Westfalian stallions was quite low with only a few highlights among 79 stallions. The Warendorf Landsgestut purchased 10 licensed stallions. Though prices have not yet been announced, it has been rumoured that they were extremely high this year, sometimes passing 300,000 euro for a licensed colt.
The crowd favorite of the 2004 Westfalian licensing was the excellently moving Rostropowitsch, a dark bay Rockwell x Coriograf B x Landadel. This colt got licensed.
Results Premium (Champion's) Ring
1. Fidermark out of StPrSt.Reine Freude (Ravallo - Frühlingstraum II)
Breeder + Presenter : Hermann Schult - 46569 Hünxe Verbleib:
Station: BG Wahler, Bad Bevensen + Böckmann, Lastrup
2. "Fürst Grandios" by Fürst Heinrich out of VbPrSt.Gritt (Argentinus - Barsoi xx)
Breeder: Andreas Klinker - 49696 Molbergen 
Presenter: Hildegard Elmerhaus - 59410 Lippetal-Lippborg
Station: Zucht und Sportpferde Schmidt, Lippetal-Lippborg
3. "Flovino" - by Florestan I out of StPrSt.Angelina (Apart - Silvaner)
Breeder and Presenter: Werner Luerweg - 46244 Bottrop
Station: NRW-Landgestüt, Warendorf
3. "San Bedo" - by Sandro Hit out of Donna (Donnerhall - Faschingsprinz)
Breeder: Walter Huning - 49324 Melle
Presenter: Wilhelm Schwierking + Felix Tiemann - 49453 Barver
Station: Maria Bergjohann, Dülmen (leased to NRW-Landgestüt, Warendorf)
5. "Fürst Khevenhüller" - by Florestan I x Rohdiamant x Castro
5. "Fürst Romadour" - by Fürst Heinrich x Rivellino xx x Renoir I
Station: Gestüt Tenterhof, Ratingen 71
5. "Qusander" - by Quinto x Palisander x Damokles
Station: NRW-Landgestüt, Warendorf
5. "Rittmeister" - by Rubiloh x Faschingsprinz x Damenstolz V
Station: Gestüt Kampmann, Lingen and Beckmann, Wettringen
Related Links 
Statistics of Breedings in 2003 to Westfalian Licensed Stallions 
Dancing Dynamite, 2003 Westfalian Licensing Champion
Rosencharmeur, the 2002 Westfalian Stallion Licensing Champion 
Don Bedo, 1998 Westfalian Stallion Licensing Champion