WBFSH Breeding News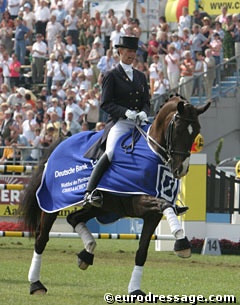 It is the eighth time that the "Verband hannoverscher Warmblutzüchter" will be awarded the "Best of all"-trophy of the World Breeding Federation for Sporthorses (WBFSH). Hanoverian horses occupied the first, the third and the fifth place in the three disciplines
that provided the basis for this assessment. Thus, the Hanoverian Association is the most successful breeding organization worldwide.
The most successful studbook for eventing, show jumping and dressage is honoured with the coveted award. For this evaluation, the sport results of each of the six best horses of the breeding area achieved from October 1 up to September 30 in the subsequent year are compared.
Gestion Salinero by Salieri/Lungau (breeder: H. Bünger, Essel), Olympic champion and world cup winner in 2004, is the first one of the dressage rankings. He is ridden by the Dutch Anky van Grunsven who leads the world rankings herself.
Five of the 10 best dressage horses of the world carry the Hanoverian brand, four of them were sold via the Verden auctions. One quarter of the top 100 dressage horses are also Hanoverians, and 10 of them were auctioned off at Verden sales events. For the ninth time in series, Hanover won the dressage evaluation and relegated the Dutch studbook KWPN and the Westphalian studbook to the following places.
As far as the show jumping rankings are concerned, Hanover occupies the third place for the fifth time. Since the introduction of these statistics in 1991, Hanover has achieved seven first and one second place. The KWPN is in the lead, followed by the French breeding organization Selle Francais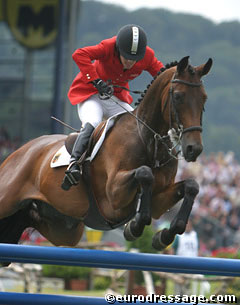 Shutterfly by Silvio/Forrest xx (breeder: U. Dreesmann, Hesel) is the best Hanoverian horse in the course, ridden by the runner-up of the world rankings, Meredith Michaels-Beerbaum. With a lead of one second, the successful pair won the highly endowed 2004 Championships in Luzern. In Mailand, Amsterdam and London, they also captured one place on the winner's rostrum. Now at the age of 11, Shutterfly has been winning 703.882,00 Euro so far.
Eleven of the 150 best show jumpers worldwide are Hanoverians, six of them are former Verden auction horses and three of them carry the abbreviation FRH in their name. They are supported by the supporter's club for Hanoverian sport horses. 1650 competitors are listed on the WBFSH show jumping rankings.
This year, six Hanoverian horses contributed to the event evaluation which resulted in a fifth place for the Hanoverian Association. Last year, only four horses scored for the statistics. Like in the preceding years, Ireland (ISH) leads this evaluation, followed by the Selle Francais. The bay Hanoverian Little Lemon B by Lemon xx/Pokal (breeder: H. Meyer, Midlum), winner of the world cup finals in Strzegom (Poland), achieved the remarkable eighth place among the best event horses. In the saddle: Andreas Dibowski. In Athens, they finished fourth with the Germany team.
Images copyrighted: Astrid Appels/Eurodressage