2004 French Dressage Championships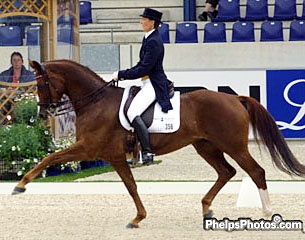 At the French Dressage Championships in Saumur, France, October 29-31, 2004, Odile van Doorn reconquered the French National Dressage Title at Grand Prix level.
Van Doorn was the 2002 French Champion, but had to give away the title in 2003. This year, she took revenge by winning both the Grand Prix and Grand Prix Special with scores in the 60s. Aboard the BWP bred mare Parodie van de Wateringhoeve (by Donnerhall), Van Doorn took a minimal lead on second placed Dominique D'Esme on Roi de Coeur.
"It always goes like that, I win everything in even years," Van Doorn told French equestrian magazine L'Eperon. "It's been going like that since I got out of the Pro 2 division. But don't make any hasty conclusions for next year," van Doorn joked. "Parodie was 10 when she won the first national title and she's been getting better and better. I'm certain that we can still progress."
Van Doorn has set up a plan for the future in order to break through internationally. She wants to face the international elite by competing in the World Cup Qualifiers of Malines, London and Maastricht.
Source: L'Eperon
Image copyrighted: Astrid Appels for Phelpsphotos
Grand Prix Tour
1. Odile van Doorn - Parodie vd Wateringhoeve - 65.958 - 67.680 - 133.638
2. Dominique D'Esme - Roi de Coeur - 65.750 - 67.560 - 133.310
3. Pierre Subileau - Sejlgaards Carlos - 64.833 - 65.880 - 130.713
4. Catherine Henriquet - Carinho des Noes - 65.375 - 64.680 - 130.055
5. Gilles Siauve - Wittfield - 63.833 - 63.760 - 127.593
6. Fabien Godelle - Donatello - 61.875 - 63.720 - 125.595
7. Constance Laboute - Lianca - 62.417 - 61.760 - 125.177
8. Nicole Favereay - Birdy Dubois - 60.708 - 62.840 - 123.548
9. Isabelle Cristoforoni - Atout de Moncel - 61.375 - 61.080 - 122.455
10. Sylvia Poulain - Adenauer - 58.583 - 57.480 - 116.063
11. Philippe Vandenberghe - Adagio - 61.750
12. Pascale Thomas - Gauguin's First - 58.042
Marie Emilie Bretenoux - Fanthomas - ELI
Related Links
Van Doorn and Parodie van de Wateringhoeve, 2002 French Dressage Champions
Scores 2004 French Young Dressage Pony Championships