Dutch Dressage News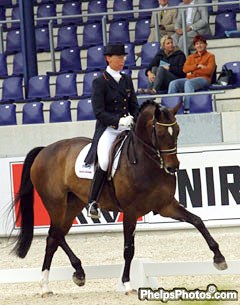 With the departure of Jazz and Lancet from Bartels' Horse Academy, Imke Schellekens-Bartels no longer has a Grand Prix horse at her disposal. Fortunately, mother Tineke Bartels decided to give Imke the ride of the Hanoverian mare Sunrise.
Owned by Mr and Mrs Smarius, Sunrise is a 10-year old Singular Joter x Werther offsrping who has previously been competed and trained at small tour level by Tineke.
"Mom gave me the ride over Sunrise two weeks ago," Imke Schellekens said at the Coby van Baalen sponsor clinic yesterday. "The horse has been at our barn for four years and I rode her the first year. Then mom started to train her and I rode her once in a whole, so I know her already. Sunrise is a very sensitive horse with spectacular movements. She already knows all the Grand Prix exercises and in a month we'll be riding the Intermediaire II"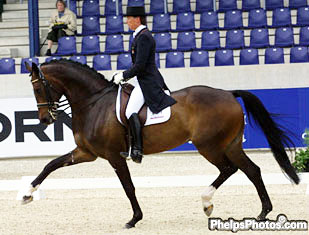 Imke Schellekens will also be competing Melvin, a 10-year old KWPN bred Flemmingh get owned by the Belgian Brigitte de Deken. Melvin will be competed at Intermediaire I level, but already shows an extraordinary talent for piaffe and passage, according to Imke.
OOSeven, the Rubinstein x Doruto licensed stallion with whom Imke won the 2004 Pikeur Trophy Finals will take another year to two years to be ready for Grand Prix.
Images of Sunrise copyrighted: Astrid Appels
Related Links
Lancet Sold to Emma Hindle
Jazz Sold to Broere Stud
Imke Schellekens Wins the 2004 Pikeur Trophy Finals