2004 Olympic Games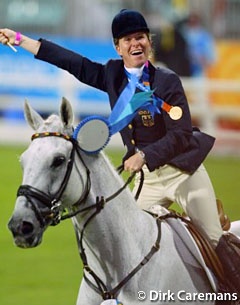 The FEI announced today the results of the medication controls for the horses sampled during the 2004 Olympic Games in Athens. Forty horses were sampled (20% of the participating horses)
, and 4 test results were positive pending any confirmatory analyses. In accordance with FEI medication control procedures the Persons Responsible (PR) for the horses testing positive have been contacted through their National Federations.
Horses that tested postive at the Olympics are Ludger Beerbaum's Goldfever (positive on Betamethason) and Bettina Hoy's Ringwood Cockatoo (positive on Hydroxy-Diphenhydramin).
Though not offficially confirmed, Cian O'Connors Waterford Crystal, the show jumping individual gold medallist, has also been mentioned on the list of horses at the Olympics that tested positive to doping.
The FEI announced simulaneously that Michael Freund's Mary (Valerian) and Kai Vorberg's Picasso (positive on Betamethason) were tested at the World Championships driving and vaulting this year.
More info later. All riders/horses are innocent until proven guilty...
Photo copyrighted: Dirk Caremans