2004 U.S. Young Dressage Horse Championships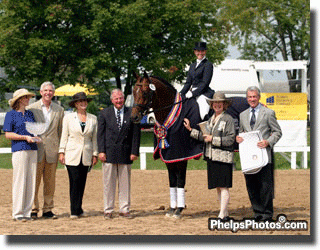 The 5-year old Hanoverian stallion Royal Prince and 6-year old Oldenburg gelding Revolution won the 2004 USEF/Markel Young Horse Dressage National Championships held at the Kentucky Horse Park in Lexington, KY, September 10-12, 2004.
Susanne Owen Hassler reigned supreme in the 5-year old division aboard Hilltop Farm's bay stallion Royal Prince (Rohdiamant x Prince Thatch xx). Hassler bested a field of 19 entered competitors and beat reserve champion Dorie Addy-Crow. Addy-Crow presented Iron Spring Farm's KWPN stallion Sir Sinclair (Lord Sinclair x Flemmingh).
In the 6-year old division, Danish rider Lars Baekgaard was undefeated aboard the Oldenburg gelding Revolution. Owned by Dr. Mary Hughes of Moorestown, NJ, Revolution is a Oldenburg (GOV) branded gelding by Royal Diamond x Furioso II. Reserve Champions were Ashley Fornell and her own Rykaard, a KWPN gelding by Kimberly x Caruso.
Image copyrighted: Mary Phelps - Phelpsphotos.com
Show Results 5-year old Division
Champion: ROYAL PRINCE 9.14 
Owned by Hilltop Farm, Inc., Colora, MD, ridden by Susanne Owen Hassler
Dark Bay Hanoverian Stallion (Rohdiamant – Piri Piri by Prince Thatch) 
Bred in Germany by Fredl Schaefer
Res. Champion: SIR SINCLAIR 8.26 
Owned by Iron Spring Farm, Inc., Coatesville, PA, ridden by Dorie Addy-Crow
Bay Dutch Warmblood Stallion (Lord Sinclair I – Krishna by Flemmingh)
Bred in the Netherlands by M. Drohn
Third: DONNERVOGEL 7.90 
Owned by Ann Kitchel, S. Strafford, VT, ridden by Deborah Dean-Smith 
Chestnut Oldenburg Gelding (Donnerhall – Etoile by Ex Libris) 
Bred in Germany by Dr. Med. J. Hartmann
Fourth: SAINT SIMMON 7.46 **Highest-Placed U.S.-Bred Award** 
Owned by Lisa Blackmon , Valley View, TX , ridden by Emilee Reed
Bay Dutch Warmblood Gelding (Rafurstinels by Katouchels by Goodtimes) 
Bred in the United States by Kim Jackson, Hunters Run Stables (OH)
Fifth: SAVANNA 7.44 **Highest-Placed Amateur Award** 
Owned & ridden by Dr. Katie Stanton, Carmel , IN
Bay Dutch Warmblood Mare (Jazz – Wanna by Doruto) 
Bred in the Netherlands by St. Proefbr. Paardenhouderij
Sixth: SILVERADO 6.90 
Owned & ridden by Jamie Schmitt, Grass Lake , MI
Bay Dutch Warmblood Gelding (Kelvin – Nathalie) 
Bred in Canada by Tineke Hogendoorn
Seventh: LEIDEN 6.86 
Owned by Donna Cameron, Medfield , MA , ridden by Bill McMullin
Bay Oldenburg Gelding (Landjonker – Argentina by Argentinus) 
Bred in the Netherlands by A.M. de Bruyn
Eighth (TIE): RÉMY MARTIN 6.78 
Owned by Gabriel Kallas , Jackson , WY , ridden by Sabine Kallas
Bay Hanoverian Gelding (Rosentau – First Lady by Fabriano) 
Bred in Germany by Sven Priess
Eighth (TIE): ROSSINI M 6.78 
Owned & ridden by Diana Mukpo, Providence , RI
Chestnut Hanoverian Gelding (Regazzoni – Davina by Davignon I) 
Bred in Germany by Klaus Detje
Tenth: WYLIE Q. 6.70 
Owned & ridden by Dawn Weniger, Apex, NC
Bay Hanoverian Gelding (Weltbekannt – Alexandra by Aktuell) 
Bred in the United States by Suzanne C. Quarles, Some Day Soon Farm (MD)

Show Results 6-year old Division
Champion: REVOLUTION 7.48 
Owned by Dr. Mary Hughes, Moorestown , NJ , ridden by Lars Baekgaard
Black Oldenburg Gelding (Royal Diamond – Fuela by Furioso II) 
Bred in Germany by Josef Niemann
Res. Champion: RYKAARD 7.46 **Highest-Placed Amateur Award** 
Owned & ridden by Ashley Fornell, Chadds Ford , PA
Bay Dutch Warmblood Gelding ( Kimberley – Milonia by Caruso) 
Bred in the Netherlands by J. J. Knijp
Third: RHYTHM 7.26 
Owned & ridden by Reta Conner, Black Canyon City , AZ
Bay Dutch Warmblood Stallion ( Monaco – Donetty by Zeoliet) 
Bred in the Netherlands by M. Nelissen
Fourth: ROMANTIC 7.24 
Owned by Pineland Farms, Inc., New Gloucester , ME , ridden by Bill Warren
Bay Oldenburg Gelding (Rohdiamant – Arabella by Argentinus) 
Bred in Germany by Gerd Berges
Fifth: RAISON D'ETRE 7.22 **Highest-Placed U.S.-Bred Award** 
Owned & ridden by Elly Schobel, Williston , SC
Chestnut American Warmblood Gelding (Regulus – Little Doozie by Uzi) 
Bred in the United States by Dreamtime Farm, Inc. (KY)
Sixth: CORDOBINO 6.96 
Owned & ridden by Kimberly Herslow , Stockton , NJ
Chestnut Hanoverian Gelding ( Cordoba – Waltraud Wuchti by Wenzel I) 
Bred in Germany by Hinni Luehrs-Behnke
Seventh: RUMOR 6.90 
Owned & ridden by Jennifer Conour, Carmel , IN
Bay Dutch Warmblood Gelding (Metall – Flash)
Bred in the Netherlands by A. Van Ommeren
Eighth (TIE): RAKKER 6.88 
Owned & ridden by Judy B. Kelly, Clarkston , MI
Bay Dutch Warmblood Gelding (Gribaldi – Barones by Saros xx) 
Bred in the Netherlands by H. Rongen
Eighth (TIE): RACHMANINOFF 6.88 
Owned & ridden by Joseph C. Sandven, Fletcher, NC 
Brown Hanoverian Gelding (Rubinstein I – Gloriette by Glorieux) 
Bred in Germany by Karl-Guenter Lohmann
Tenth: FAMOS 6.84 
Owned & ridden by Bill Coester, Cedar Rapids , IA
Black Westphalian Gelding (Florestan I – Diva by Disco Star) 
Bred in Germany by Hubert Beule
Related Links
Susanne Hassler Shines on Royal Prince at the 2004 World Championships