British Dressage News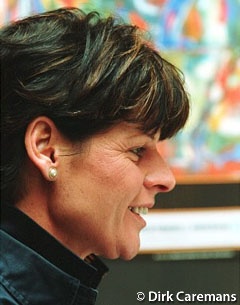 Olympic team gold medallist Ulla Salzgeber will be giving British dressage fans the benefit of her experience when she takes the BEIB British Dressage National Convention at Addington Manor, Buckinghamshire, 27-28 November 2004.
Ulla Salzgeber and Rusty were part of the German dressage team who won gold in Athens and also won individual silver medal with breath-taking scores up to 83.4% for the Grand Prix Kür.
The Convention is a two-day course run by British Dressage, which has previously hosted famous trainers such as Conrad Schumacher and Johann Hinnemann.
Talking about the Convention BEIB Director, Simon Mackaness said: "As the leading broker for Dressage riders and horses BEIB are delighted to support British Dressage with the sponsorship of this event. Ulla Salzegeber is an exceptionally talented rider and trainer who is not to be missed, and we look forward to the 2004 BEIB National Convention with great anticipation."
The BEIB British Dressage National Convention is open to all – tickets are available from the British Dressage Office.
BD Members - £35 per day or £50 for both days
Non-members - £40 per day or £60 for both day
More info at
British Dressage Ltd
National Agricultural Centre
Stoneleigh Park
Kenilworth
Warwickshire CV8 2RJ

Tel: 02476 698830
Fax: 02476 690390
Image copyrighted: Dirk Caremans
Related Links
Salzgeber Keep the Lead in the FEI Rankings After the Games 
Eurodressage Coverage of the 2004 Olympic Games
Britain to Host 2004 World Cup Qualifier in London