2004 Bundeschampionate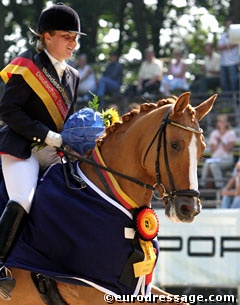 If you were standing near the dressage ring on Sunday afternoon September 5 at the 2004 Bundeschampionate, you had to think that "Bundeschampionate" must be a spelling mistake for what actually should be "BundesCAMPionate."
In the 5-year old Dressage Pony division, Lydia Camp won on Valido's Contrast. In the 6-year old Dressage Pony division it was her sister Helena CAMP who reigned supreme aboard Dornika.
The chestnut Dornika is a Westfalian bred mare by Dornik B out of a Nantano dam. She was bred by Wilfried Nogaitzig from Reken, Germany, and presented at the Bundeschampionate by Helena Camp.
Judge Christoph Hess praised this pony for its "elasticity in movement and swinging through the body." Hess continued, "the walk is forward and active and reflects a happy pony. In the canter she shows very good collection potential. This is a pony of high rideability." Dornika got a bit scored down on the trot work, which was not always in the same rhythm. Their endnote of 8.7 sufficed to win the 2004 Bundeschampion's title.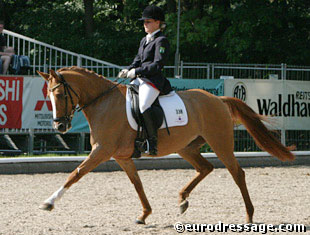 Dornika's victory was not only much to the joy of her rider Helena Camp, but even more so to her owner Sanneke Rothenberger. Daughter of the famous dressage couple Sven and Gonnelien Rothenberger, Sanneke was there to witness her pony win the championship.
Sanneke herself is a talented dressage rider, already competing in 2001 aboard Winchester and more recently showing in the Hessian area at L-level aboard the renowned FEI Dressage Pony Domino Dancing (Derano Gold x Valentino). Domino Dancing has already introduced Alice Fengels, Wendy Wehmeyer and Maria Theussen what FEI Pony dressage is really about. Now the chestnut/palomino stallion is leading Sanneke Rothenberger to glory.
And of course, it's always perfect to have a Bundeschampion such as Dornika as reserve pony.
Octavia Mettenheimer Loves Going to the Bundeschampionate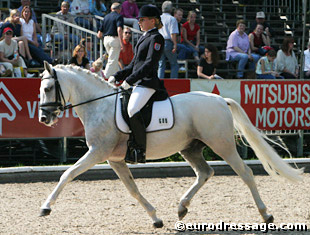 It wasn't the first time that Octavia Mettenheimer went to the Bundeschampionate, but this year it was definitely her best time. Competing in the 6-year old Dressage Pony division with Nanos (by Nuts), Mettenheimer placed second with a 8.5 score and became reserve champion. "It is always fun to taste the atmosphere at the Bundeschampionate," Octavia said. "You can learn so much by watching the professional riders school their young horses."
Judge Christoph Hess praised the white pony for his excellent canter. "It's is uphill with good collection potential," he said. The only worry was the walk, which showed good overtrack but was not very ground covering in general. Yet, that minus didn't change the fact that the pair finished second in the 6-year old class.
"I got a bit nervous before I had to ride, but once I sat on my pony I calmed down and was focused," Mettenheimer explained. "This is a very positive development for me. Also, despite the many people in the stands, Nanos was easy to ride and most of the time he concentrated on me. This proves that we're on the right track."
Octavia Mettenheimer, who is based in Königstein, Germany, trains weekly with Willfried Schmidt, but twice per month Mr. Scholten comes over to train the Hessian Pony team. "It's a perfect mix for me, because Mr Schmidt focuses on looseness of the horse and rider. Mr Scholten knows the FEI pony tests by heart. He concentrates on the seat of the rider, correctness of the movements and the exercises in the test. It's a good combination because every two weeks I can check what I can improve and he sees my improvement."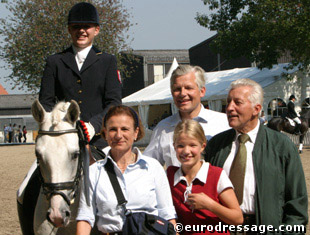 Mettenheimer's Nanos was bred by Kerstin Busse from Bramsche, Germany, but the pony was purchased by Octavia and her father Konstantin from the Siemas family at stable Königshofer Heide in Sittensen.
According to Octavia, Nanos is quite a complex pony to handle. "He gets excited really easily and becomes a bit difficult to handle. Especially when something new approaches him, he doesn't know what to do and becomes tense."
Nevertheless, Nanos excels in his rideability and excellent gaits. "When you have a good connection with him, when you have convinced him, he will be very attached and will give his best every hour for 100 percent. This shows well in his willingness to collect. " Mettenheimer explained.
However, to Octavia, there is a main weakness to Nanos. It is his particular fondness of mud. "He just loves to make himself dirty. He will lie down in every spot of dirt he can find. I have to wash him almost every day!"
It is men's white pony burden.
Gold Fades to Bronze for Forestina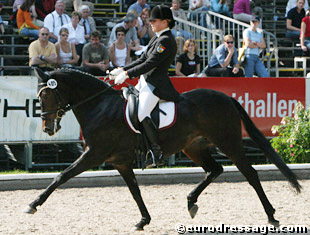 Last year Forestina was the winner of the 5-year old Dressage Pony division, this year, her gold medal has faded to a bronze one in the 6-year old class. A Bundeschampion is expected to be brilliant, in his movements as well as in his rideability.
The dark bay mare Forestina, a Rhinelander bred Flying Dream x Derbino offspring, has movement enough. Her walk, trot and canter are ground covering and functional, but her rideability was not excelling in Warendorf. Rider Sophie Viktoria Schmid was pulling the bit almost constantly, especially in the trot work, and was unable to make the mare shine with grace and elegance.
Judge Christoph Hess also voiced this opinion, but was a bit more careful in his choice of words. "She has three good basic gaits, but the bending was not O.K.. It is important that 'lightness' is maintained throughout the test," Hess said. Unfortunately, lightness was not to be sensed in Forestina who steamed through the ring. Pity.
Text and photos copyrighted Astrid Appels/Eurodressage - No reproduction allowed!
Back to the 2004 Bundeschampionate Index