2004 Bundeschampionate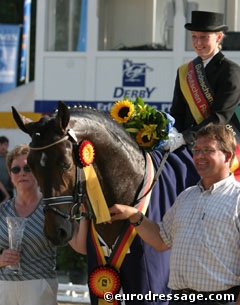 Let's talk with stereotypes. Germans are generally known to be strict, focused, businesslike people not showing any emotion under any circumstance in order to keep up the facade of power, status, independence and strength.
Now let's talk reality, reality at the 2004 Bundeschampionate in Warendorf. German rider Jana Freund won the 5-year old Dressage Horse Championship with the Rhinelander breeding stallion FS Lord Loxley (Lord Sinclair x Weltmeyer). Of course she was very happy, even ecstatic. It's one of the biggest titles you can win in your career with horses. But 24-year old Freund kept her cool, smiled, and showed off her horse in the victory round.
However, at the end of the day, that German wall of collectedness broke down. To the great surprise and joy of owners Josef and Christiane Wilbers and to the astonishment of rider Jana Freund, the 3-year old licensed stallion FS Sandro Classic won the 3-year old Riding Horse Finals. It was Freund's second Bundeschampion's title of the day and her 13th in her career. FS Sandro Classic received two 10's from guest judge riders Susanne Miesner and Uwe Schwanz.
Freund was overcome by emotion. She could not believe what had happened that weekend. Her concentrated, sterile rider's look was rinsed off her face by the tears that kept pouring from her eyes. It was the most beautiful, endearing, human(e) moment to be seen at the 2004 Bundeschampionate.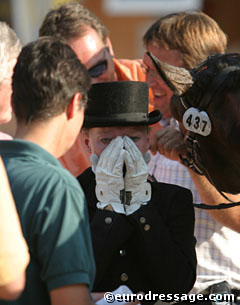 FS Sandro Classic is a Rhinelander bred stallion by Sandro Hit out of a Sir Chamberlain dam. The horse is owned by Christiane and Josef Wilbers of Ferienhof Stucker. "We bought Sandro Classic as a foal at the foal show in Goch Heidhausen," Christiane Wilbers explained, "as a foal he was already gorgeous and moved very appealingly."
FS Sandro Classic's triple ten score -- two tens by guest judge riders and one ten for canter -- was a phenomenal achievement for a young stallion. "We had never guessed that he would be this successful at shows," Wilbers said, "and that he would win the Bundeschampionate was a huge surprise, because for 3-year old horses it's a very special thing to perform here."
FS Sandro Classic showed perfect behavior under his steady rider Jana Freund. "He's always cool and has fun in his work. He was only born in June (2001) so he's still a baby," Christiane Wilbers stated.
For Jana Freund, 2004 is an apex in her professional career. She won the silver medal at the World Young Horse Championships aboard FS Lord Loxley, and claimed two Bundeschampionate titles in September with FS Lord Loxley and FS Sandro Classic. "Jana trains the older horses with Dieter Laugks, especially FS Lord Loxley when he was prepared for the World Championships and Bundeschampionate. The other horses are being trained at home by Jana and my husband Josef," Christiane Wilbers said.
Congratulations Jana Freund and the FS-team.
Text and photos copyrighted Astrid Appels/Eurodressage - No reproduction allowed!
Back to the 2004 Bundeschampionate Index