FEI Dressage News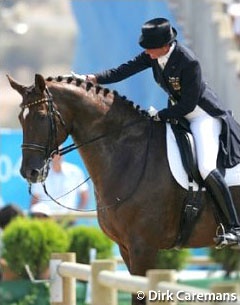 Athens 2004 Olympic Team Gold and Individual Silver Medallist Ulla Salzgeber (GER) is leading the FEI BCM World Dressage Riders Rankings with 79.691 points, only 0.139 points ahead of her Olympic rival Anky Van Grunsven (NED).


According to the World Rankings rule, the ten best scores of the year are taken into account for the rankings calculation of the Dressage discipline. Points obtained at Olympic Games are counted twice, provided they are among the 10 best scores.

The scores obtained by Salzgeber at the 2004 Olympic Grand Prix and at the Final Freestyle to Music (Kür) are both among her 10 best scores and are therefore counted twice.

The Olympic Grand Prix scores of Anky Van Grunsven are also counted twice, as well as the 85.825% obtained in the Final in Athens, where she charmed the public with a perfect freestyle test on "L'Esprit Chanson", a medley of French classics including Edith Piaf's "Je ne regrette rien", created by her long-term collaborators Cees Slings and Viktor Kerkhoff. The victory of Anky van Grunsven in Athens took another dimension last Monday when the Dutch star, arriving to Amsterdam on the Olympic flight transporting all the Dutch athletes back home, publicly revealed that she won the gold while being 18 weeks pregnant.

Debbie McDonald (USA) jumps up from 99th (!) to 3rd rank. She had only 8 results counting for the rankings at the end of July. She earned the Team Bronze and finished 4th individually in Athens.

Beatriz Ferrer Salat (ESP) who has earned the Olympic Team silver and individual bronze medals recuperates her 5th position, just behind Heike Kemmer (GER), member of the German gold team.
Image copyrighted: Dirk Caremans