2004 Olympic Games
The Nations competition at the 2004 Olympic Games was a tough competition with the powerhouse German Team and their undeniable national dressage heritage taking the Gold with an average score of 74.653. The ever-improving Spanish Team took the Silver (72.917) and a determined U.S. Team brought home the Bronze (71.500).
Spain was in the lead before the fourth rider of each team rode their Grand Prix. It was left to Ulla Salzgeber with 17 year old Rusty to secure the win or Germany with a score of 78.208. Salzgeber showed as she has done never before. Her piaffe looked clean, her transitions were excellent and Rusty excelled as usual in the flying changes and pirouettes.
"I don't think that I improved from previous Games," Salzgeber commented after her ride. "I only didn't make mistakes this time. I believe that the other thing that contributed to my success is that Rusty likes the heat. I like the place here and we both feel like home."
Spain won its first Olympic Dressage Medal with a score of 72.917, pushing the United States back to bronze.
"All four Spanish riders had the ride of their lives," said trainer Jean Bemelmans, who has worked with Spain since its Olympic debut with Spanish horses in 1996.
Top-scoring for the United States was Debbie McDonald with Her mare Brentina, who worked together better than ever. "I was hoping for a better score," she said at the end of her performance, "but I am quite happy with my performance. I felt very good out there and kept the energy going, but felt a lot of pressure."
In what should be described as a Herculean effort, Team USA brought their best to Athens to bring home a medal – and they certainly did not disappoint anyone. The team composed of Debbie McDonald of Hailey, Idaho, riding the mare Brentina; Robert Dover of Lebanon, N.J., on FBW Kennedy; Guenter Seidel of Del Mar, Calif., on the young and promising Aragon; and Lisa Wilcox, a Los Angeles native residing in Germany on the stallion Relevant, stood on the medal podium and proudly received their Bronze Team medal.
On his Bronze medal Team victory, six-time Olympic veteran Dover said, "We are always happy to have any medal. We're excited to show that we are in the top three in the world. We are proud of our team."
Salzgeber leads the individual ranking ahead of Beatriz Ferrer Salat (ESP) and Anky Van Grunsven (NED) heading into the second qualifier.
Rafael Soto Wins the Grand Prix of Group 1 in the Dressage Olympics
"I am very excited. It was the best performance I ever had in a Grand Prix. This is our 3rd Olympic Games together. I think we had a great score," Rafael Soto commented after his Grand Prix ride. The "great score" he got from the judges was 72.792% and turned out to be the winning score of the day.
Rafael Soto, who is a chief trainer at the Real Escuela Andalusian Riding School in Jerez de la Frontera, has been having a super year and with his Grand Prix victory has now created team medal opportunities for the Spanish team.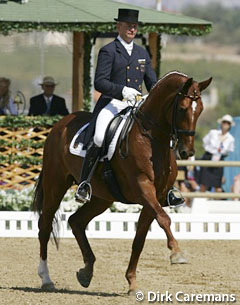 Finishing second in the Grand Prix for Group 1 (26 riders) was German Hubertus Schmidt. His 72.333% score was a major victory for Schmidt. Not only did the mark place him second in the class, but he also ranked above team mate Heike Kemmer.
Hubertus Schmidt, who won the German Professional Dressage Riders' Championships for the fifth time in his career this year, had much to prove in Athens. He had the fight so hard to earn his team spot, as "politics" interfered with his qualification for the team. At the international show in Aachen, Schmidt rode more renowned German riders off the charts and qualified for the team. His 72.333% score in Athens confirms his solidity for the German "Mannschaft."
Schmidt is enjoying his first ever Olympic experience. "The pressure during the qualification was higher. To be at the Olympic Games is a dream," Schmidt said. Aboard his Hanoverian mare Wansuela Suerte (by Warkant x Wachmann), Schmidt had a very consistent Grand Prix ride. "The piaffe could have been nicer," Schmidt commented. "Nevertheless, I am very happy. We had a good team result. We have proved that we deserve to be in the team."
German Heike Kemmer and Bonaparte (by Bon Bonaparte) finished third with 71.292%. At the beginning of the show season, Kemmer was the second best German rider on the scene, but this summer she has been struggling hard to keep a grip on the fourth spot in Germany.
In Athens, she was not able to live up to her World Cup Finals' condition, but, nevertheless, rode a very decent score. "I achieved my goal, which was to keep my score around 72%," Kemmer said. "My horse was a bit tired at the end. That was the reason for the mistake I made in the final flying changes. There was a slight problem with my timing in the warm up ring and I didn't have enough time to take the horse's boots off. Luckily I got help from Ingrid Klimke and her husband Andreas," Kemmer explained.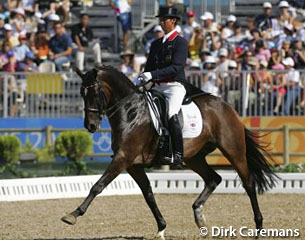 Surprise ride of the day came from British Carl Hester aboard the Oldenburg Escapado (by Ex Libris). At the final qualifier in Aachen, Hester had a distastrous ride on his stressed out horse, but in Athens the temperamental bay seemed to have kept his cool and stayed rideable. Hester scored 70.667% and placed fourth. "Let's say that if I died I would be a happy man now," Hester joked. "My horse gave me the hottest ride ever. He was nervous in the beginning because the crowd cheered him on. He is very young, only nine years old, but he is very talented".
While Hester surprisingly piqued today in Athens, American Lisa Wilcox performed below expectation. Adding to the fact that she had the disadvantage of entering the ring as first combination, Wilcox was not able to make her Oldenburg stallion Relevant shine as usual. The American duo scored only 68.792% and finished 8th. "My horse hasn't competed since February but he gave me all he had to give," Wilcox said. "I am extremely proud of him. The problem was that I got to help him too much and he got confused. This is a rider's mistake."
In a way, Wilcox feels that she has disappointed her team mates. ''It is very interesting to be in a team. We stay in a fantastic accomodation and we are a big happy family. I was disappointed a bit with my score. I wanted to make it easier for my team mates but I didn't. The pressure is on them now."
American Guenter Seidel ranked one place above Wilcox in the seventh slot. Aboard the Bavarian gelding Aragon (by Abydos), Seidel rode 69.500%. "The passages were a bit more tensed today," Seidel commented. "He was not going forward enough. The trot and walk were fine but he completely fell out on the first pirouette. In general I'm not disappointed with him or our performance. He pretty much stayed focus. This is his first Olympic Games and I must say he is in the right track".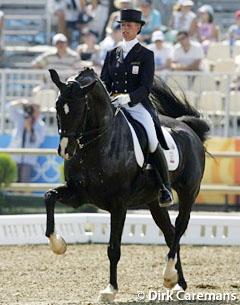 Holland had a good go today with Imke Schellekens-Bartels, who is replacing Edward Gal and Lingh. Schellekens scored 69.750% on Lancet (by Wenzel) and ranked sixth. It was Schellekens and her horse's first Olympics ever. "It doesn't seem different from competing in other events," Imke said. "My coach told me to be concentrated and to take one thing at a time. I made a few mistakes, I was the first to compete for my country and they are all pleased with my performance."
Unfortunately Dutch Marlies van Baalen scored below her level and her 64.583% made her drop all the way down to 21st place on the score board. The pair made their Olympic debut today and had only two big mistakes. Howevern in general the combination lacked flamboyance, especially in the piaffe, and Marlies gave many visual hand aids to which Idocus responded by opening his mouth. "I am a little disappointed with the score," Van Baalen said. "I made two big mistakes, trying to go to the right. It is my first time in the Olympic Games. I hope I do better in four years."
Nations in contention for a team medal are Germany, U.S.A, Holland, Denmark and Spain. It'll be a tough battle tomorrow as the best riders of those nations are still to come. At the moment, Germany is in the lead with an average of 71.813%, followed by the U.S.A with 69.146% and Great Britain with 69.084%.