2004 Olympic Games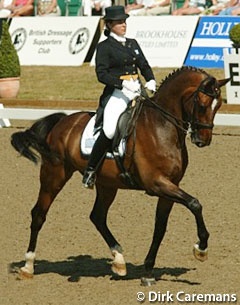 Finally dressage is in the spotlight at the 2004 Olympic Games. The first, often forgotten, but not to be underestimated phase for the dressage horse, is the vet inspection.
We all remember the drama at the 2002 WEG when Ellen Bontje's Silvano N was not accepted; today, this negative verdict fell again for one horse.
All but one of 53 horses presented for inspection to the Ground Jury of the Dressage competition were accepted. Unfortunately for home rider, the Greek Alaia Demiropoulou, the jog was the ending of her Olympic experience. Her horse Heros did not pass the jog.
Three horses were sent to the holding box and were accepted after re-inspection: Fritz Gaulhofer's Werther's Wels (Austria), Louisa Hill's Gabana (New Zealandà and Elena Sidneva's Artax Condor (Russia).
Let the Games Begin!
Photo © Dirk Caremans