2004 Olympic Games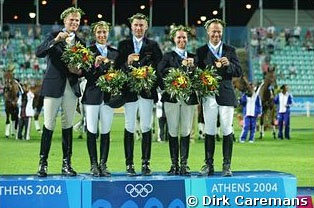 A roller coaster of emotions preceded the medal presentations for the Eventing competition at Markopoulo Olympic Equestrian Centre, with double gold for Bettina Hoy individually and with her German team.
The Appeal Committee had to consider an appeal received from the German Federation against the time penalties awarded to Bettina Hoy at the conclusion of the Eventing Team Jumping and Individual Qualifier, which had pushed Germany off the podium. Bettina Hoy had crossed the starting line twice at the beginning of the round.
The Appeal Committee concluded that the clock had been restarted, and that an error in the management of the competition shall not put a rider at disadvantage. "Bettina Hoy had no way to believe that her round had started," explained Hugh Thomas (GBR) member of the Appeal Committee, "as the clock was restarted when she crossed the line for the second time". The Committee therefore removed the time penalties formerly given by the Ground Jury and the German team earned the gold medal with a result of 133.80 penalties, ahead of France (140.40) and Great Britain (143). The medals were presented by HRH Princess Royal IOC Member and former Olympian in Eventing.
Photo @ Dirk Caremans