2004 Olympic Games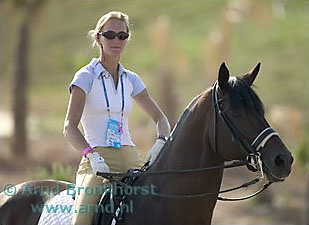 Not long after his arrival at the Markopoulou Equestrian Center, Dutch team horse Gestion Lancet suffered from a minor colic attack. Right after the official opening ceremony on Friday August 13, the dark bay licensed stallion was found in his stall with achy but light gas colic cramps.
Team vet Hans van Schie put the horse under his close inspection and gave him some time off. "It's not very serious, but serious enough to keep a close eye on it. We don't want it to turn into a real problem." His rider Imke Schellekens could not ride during the team training session the next day.
Gestion Lancet (by Wenzel x Shogun xx) was feeling much better August 16 and started to do some light training again. Schellekens and Lancet will be the first Dutch pair to ride the Grand Prix on August 20, 2004
It is not uncommon for horses to get colicky after a stressful transportation from their home country to the Olympic venue. In 2000, Guenter Seidel's Foltaire suffered a severe colic attack at the Sydney Olympics.
Image copyrighted: Arnd Bronkhorst