2004 Olympic Games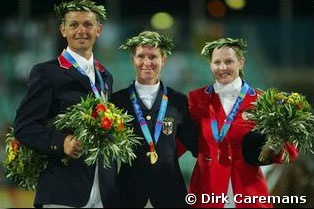 German Bettina Hoy has won the individual gold medal in eventing after the stadium jumping phase, which will go down in the history books as one of the most thrilling Olympic eventing phases in history.
Hoy had to enter the ring after having faced one of the biggest emotional turmoil in her life. With Germany winning and losing team gold and she being penalized 12 time penalty points back and forth, Hoy entered the ring not knowing if she was fighting for gold, silver, bronze or nothing. But she was so brave and rode a very concentrated ride. Ringwood Cockatoo did knock down one pole and had 2 points time penalty (41.60 overall), so the individual silver was a certainty (depending on the lawsuits concerning team gold that will follow after the show), but gold was also an option depending on Touzaint's ride.
Touzaint must have felt like Atlas carrying the burden of the world on his shoulders, when he went in for his individual ride. Touzaint led after dressage and confirmed his number one position after cross country. He could afford one rail down. Two rails meant silver, three rails meant bronze. The 24-year old put down a monumental performance in Athens and everybody thought he deserved the individual gold.
Unfortunately, the Greek gods did not favor him, and it was a huge drama to see that Touzaint and Galan de Sauvagere knocked down a pole at the first jump, and then they had another one, and another one. Touzaint knocked down four poles in total and had 3 time penalties. The drama became a true Greek tragedy. Touzaint moved from first position into ninth. How sad for such a great rider to land into such an unrewarding position.
Expected to win silver was Pippa Funnell, but it was actually British team mate Leslie Law who surprisingly landed into silver medal position. Law and his gray Sheer L'Eau cleared the course in time. "I started out as 10th and then I climbed up from there," Law commented. "My horse was on fire tonight. You never know how a show like this can unfold."
Placing third and winning the bronze medal was American Kimberly Vinoski-Severson on Winsome Adante. Severson had one pole down and when she finished her course there was no face of happiness, but one of disappointment to be detected. Of course, she did not know the drama that was about to happen to Touzaint. Her overall score of 45.20 gave her the bronze.
In fourth place, with no individual medal but team bronze, were Pippa Funnell and Primmore's Rose. Funnell and Rose pinged off one rail and scored an overall of 46.60.
For Bettina Hoy, the pressure of this final Olympic eventing day fell off her shoulders after Touzaint's ride so it was unclear at first if she shed tears of joy, frustration or overall emotion. "Kurt [Gravenmayer], Paul, Otto [Becker] were all supporting for me. I had to be concentrated for my ride," Hoy said, "They [the judges] have decided in our favor. Winning the gold; this is my wildest dream come true."
Outsider Germany Grabs Team Gold at 2004 Eventing Olympics
What a thrilling competition! The team medals were absolutely decided today by stadium jumping as rails were flying down and nations ping-ponged across the scoring board after each ride. It was Bettina Hoy-Overesch who put the gold lining on Germany's team gold medal. Hoy had a copybook jumping round aboard the grey gelding Ringwood Cockatoo and cleared the course in time. The pressure that was on her shoulders after Ingrid Klimke had pulled out Sleep Late from competition, was enormous; the relief when Hoy cleared that last fence was equally as big.
After Hoy dazzled the audience with her fantastic winning performance, she jumped off her horse and fell in the arms of her husband, the Australian Andrew Hoy, in tears. Andrew himself was totally overcome and couldn't surpress his emotions either. The German camp was jumping up and down while Dibowski, Ostholt and Romeike hugged their team mate.
"My husband won team gold before, but to experience it myself is just unbelievable," Bettina Hoy told the BBC. "We came here as the outsiders so we didn't feel that much pressure. We were very united at the training camp and for us a team medal was the most important. That it is gold is just unbelievable," Hoy rejoiced.
German eventing went through a major depression in the 90s and struggled hard to surface back at the top. Their last team medal was at the 1988 Olympic Games in Seoul and then craved one again desperately. "We needed to win a medal in order to keep government funding," Hoy explained.
The French eventing team finished in silver medal position after performing quite a disappointing stadium jumping round. The French were comfortably in gold medal position after dressage and cross country, but the three leading riders knocked down 5 rails (20 penalty points) in total and had to incalculate 7 time penalty points as well.
The best French jumping round came from Nicolas Touzaint, who had been leading strongly in the individual ranking after two phases. Aboard Galan de Sauvagere, the 24-year old Touzaint made one lethal mistake on the last fence. Touzaint had to work really hard to get the strides right but didn't make it. His horse knocked off one rail on that final jump.
Touzaint is still leading individually, but now has less breathing space. One rail down in the individual finals and a clear round from second placed Bettina Hoy will make him lose that individual gold medal.
The BBC crew, which has religiously been broadcasting eventing these past four days, went through the roof when Pippa Funnell fulfilled her anchor role on the British team by riding a clear round aboard Primmore's Rose. Funnell's horse has scope to burn, which he profitably put to use jumping the course.
Britain went from a gold medal position after dressage to a third place after the cross country and it desperately clinged on to that place during show jumping, as the American team posed a threat to their medal position. The withdrawal of William Fox-Pitt's top jumper Tamarillo did not boost England's confidence. However, Leslie Law and Pippa Funnell both had clear rounds while Mary King put in eight penalty points. Their 143.00 score was good for bronze.
It was Amy Tryon on Poggio II who had the best American ride in stadium jumping. Tryon was the only one to clear the course. Much was expected from Kim Severson on her stunningly consistent horse Winsome Adante. Unfortunately on the last lightweight fence, Adante pinged one rail down behind and they also got 1.00 time penalty. So Team U.S.A finished fourth, but Severson still has individual medal chances.
Darren Chiacchia and Windfall got off lucky this morning during the vet inspection as the black Windfall turned out really stiff, but passed the jog anyway. The pair showed a decent course with only two rails down.
The team that has done the best stadium jumping today were the Belgians. All three riders -- Constantijn van Rijckevorsel, Karin Donckers and Dolf Desmedt -- had a clear round! They finished only in seventh place not being able to make up for the points they lost in dressage and cross country.
Their excellent performance in the stadium must have been very welcome after the tragic incident that happened with their team mate Joris Vanspringel. Vanspringel's horse Over and Over fell during cross country and broke the femur. He was transported to the vet clinic where he was operated on. Unfortunately, the injury was too severe and it was in the best interest of the horse for him to be euthanized.
Stadium jumping proved to be hughly influential in the eventing team competition. Germany won gold with 133.80 points, France the silver with 140.40 points and Great Britain the bronze with 143.00 points. The U.S.A got 145.60 in total.
The individual eventing medals are decided tonight. Will Nicolas Touzaint be able to grab that coveted gold medal? The young rider truly deserves it!
Touzaint Shows His Worth On the Cross Country Course
French eventing rider Nicolas Touzaint has shown his worth once again after the cross country. Already topping the leader board with a extraordinary high score of 29.40 points, Touzaint and Mr Girard Claudon's grey gelding Galan de Sauvagere put in a brilliant cross country ride, clearing the course with great ease within the set time frame. Adding no penalty points to his already fantastic dressage score, 24-year old Touzaint has taken a firm lead in the ranking and can already see the individual gold shining in the distance.
German Bettina Hoy and her grey horse Ringwood Cockatoo also cleared the cross country course, which featured 34 jumps, but had 3.60 time penalty. Her total score is now 35.60 which ranks her second. She came from a third place after the dressage
American Kim Severson improved one position on the score board jumping into third place overall after a clear round on Winsome Adante in the cross country. 2002 World Equestrian Games individual gold medallist Jean Teuleure is now in fourth position on his Espoir de la Mare, a beautiful French bred gelding owned by Mr Christophe Dubois. They have a total of 38.40.
Badminton Champion William Fox-Pitt proved he is one of the anchors of the British eventing team. Aboard Tamarillo, Fox-Pitt showed his experience and mastery of cross country racing and jumping, and put it much speed to finish in a clear round and land on a fifth overall spot with 38.60 points.
German Ingrid Klimke climbed up two spots, ranking sixth now after a very fast round on the English thoroughbred Sleep Late. Klimke's cross country was a true thriller. She regularly had to push her horse over the jumps, spurring him on with the whip. Furthermore, Klimke fell off her horse in between two jumps,as Sleep Late slept in a bend. Because it was not a fall provoked by a jump, Klimke was fortunate enough not to get any penalty points for that. She merely lost some time, but she easily recouperated that by pumping her horse on long galop stretches.
Quite disappointing was Pippa Funnell's cross country ride on Primmore's Rose. The tall thoroughbred is a handful on the course and Pippa continually had to pull the bit to get the horse back on track and focused on her aids. She did ride a clear round, but slowed down too much in the last part of the course. Funnell finished in 10' 14" and got 11.20 penalty points. Funnell captured a firm second place after the dressage, but she lost that position now. With 42.60 points, she's now in 8th place.
American Darren Chiacchia and the Trakehner stallion Windfall (by Habicht) had a very smooth ride finishing in time. Their score, therefore, stayed the same and with 44.60 points they are in 12th position.
The experienced John Williams and Carrick had no trouble managing the course, but finished a bit late. 1.20 time penalty added to their dressage score put them in 19th place with 48.80. "I was surprised to came home outside the optimum time because my horse is one of the fastest horse. But that can happen," Williams said.
Amy Tryon and Poggio II also had 1.20 time penalty now totalling 51.80 points and placing 22nd.
After a mediocre dressage ride of 65.40 points and a clear course with 1.60 time penalty, Julie Richards and Jacob Two Two are now in 36th place with 67.00.
With two phases under their beld, the French are currently in the lead in the team ranking with 113.40 points. Germany has climbed from third place into second with 119.60. England went from first place to third because of Funnell's below-level ride. The Brits now have 125.60 in total. The U.S.A. is still in fourth place with 129.60.
Though Touzaint has a little bit of an advance going into the stadium jumping phase tomorrow, he should not knock down more than one rail if he wants to win the individual gold. Nevertheless, the scores in the individual ranking are so close together that everything will be determined in the show jumping phase.
Mary King of the British team confirmed that the Olympic cross country course was not very challenging for most of the riders. Leslie Law commented that the challenge of the course was not in the difficulty of the jumps but in the allowed time frame. ""It is a very inviting course. It might seem easy but making the time is really making the challenge in the competition," Law said.
The horse-friendly cross country course was easier than its usual four-star Olympic difficulty level. Because the eventing discipline is in precarious position to maintain its Olympic status due to the danger and risks in riding a cross country, course designer Albino Galbari curbed himself in the design. He made a beautiful course using Greek themes all over, but watching the riders go over it, it looked more like a pony steeple chase than a trial for horse and rider, like we are used to see in Badminton.
Nicolas Touzaint Wins Eventing Dressage Phase
The 2004 European Eventing Champion, Nicolas Touzaint won the eventing dressage phase at the 2004 Olympic Games in Athens, Greece. Aboard his grey Selle Francais gelding Galan de Sauvagere, Touzaint scored a super low 29.4 points and beat British Pippa Funnell.
Receiving 9's and 10's for his beautiful dressage ride, Touzaint raised the standard. "I have been training hard and I hoped I could get such a result," Touzaint commented afterwards. "This is the best score I have ever had with Galan. He was feeling like at home today and I am very pleased with the way he performed."
Pippa Funnell, who prepared her horse Primmore's Pride with the Olympics as their only aim, finished in second position with 31.4 points. Primmor's Pride showed a lovely medium and extended trot, but the flying changes needed much more work.
Winner of the first day of dressage, German Bettina Hoy-Overesch, ranked third overall on her white gelding Ringwood Cuckatoo. Her seemingly unbeatable score of 32 points was outscored by two on day two.
First non-European placing high on the leading board was American Kim Severson, and her steady mount Winsome Adante. They pair ranked fourth after a 36.20 point ride.
Severson prepared her dressage test very carefully. "I rode three times today and that is more than I have ever ridden before a Dressage test," Severson said.
Second best scoring American was Darren Chiacchia on the Trakehner stallion Windfall, a horse who was trained and competed by Ingrid Klimke and then sold to the U.S. Chiacchia and Windfall became 15th with 44.60 points. Chiacchia rode in very windy conditions, but this did not seem to affect their performance. "I am very proud of my horse and the reason why the wind did not concern me is because my horse fits his environment. He is a bit of a showman," Chiacchia said.
More was definitely expected from German Ingrid Klimke, who placed eight aboard Sleep Late with 41 points. Klimke won the 2004 German Eventing Champions only a few weeks before the Olympics kicked off and is considered to be a medal hopeful. Riding at her second Olympic Games, Ingrid Klimke is the daughter of Reiner Klimke, who is with six gold medals the  most successful Olympic rider in history.
American John Williams and Carrick finished 23rd with 47.60 points. He couldn't be bothered either by the strong wind that is blowing through the Markopoulou Equestrian Centre. "Before my test I was scared that the public and the wind would affect my performance but this was not the case and we performed well," Williams said. "Conditions here are better than in the USA where it is much more humid."
After the dressage phase, the British eventing team is currently in the lead with 113.20 points, followed by the French team with 113.40 points and the German team with 114.40 points. The American camp is in fourth position with 128.40 points.
Bettina Hoy In the Lead After Day One Eventing Dressage
Bettina Overesch-Hoy (GER) holds a wide lead at the end of the first Dressage day of the Eventing competition where she scored 32 points on Ringwood Cockatoo. At the press conference following the competition, she praised the well-known dressage rider Ingrid Klimke, who replaced her coach for the duration of the Olympic Games. "The spirit of cooperation and the cheerful atmosphere among the riders is a true illustration of the Olympic ideal" she said. "It must be one of the very few sports where the athletes really appreciate the performance of the others" she added. On the cross country course designed by Albino Garbari (ITA), she said "it is a very fair and beautiful course, and the horse really has a chance to find a good rhythm. I am looking forward to riding it".
Bettina is followed by young New Zealander Heelan Tompkins with her 18 year old Glengarrick, who is the oldest horse to take part in the Eventing competition. The combination scored 44 points.

Hinrich Romeike (GER) is third with Marius (44.60). Romeike, who is a dentist, was the best placed German rider at the 2003 European Championship in Punchestown.

The wind was the biggest opponent in today's competition. The Greek "Meltemi" blew flags and flower decoration and troubled some horses' nerves. New Zealander Blyth Tait and his gold medal horse from the 1996 Atlanta Olympic Games were the hardest hit. Ready Teddy was tense from the start of his test and finished with a score of 63.6 points. 

37 of the 75 riders have completed the dressage test, which will continue tomorrow Monday at 10:00
Images copyrighted: Dirk Caremans - No reproduction Allowed