2004 Bundeschampionate - Qualifiers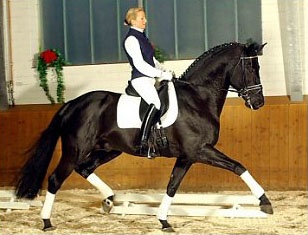 The Bundeschampionate Qualifier at Rastede was one of the last shows at which riders were able to get their 8.0 or higher score for a ticket to Warendorf. The P.S.I. team travelled full force
to the show in Rastede and scored well, but the victory in the two qualifying classes went to Lisa Wilcox of Gestut Vorwerk and Burkhard Wahler of Klosterhof Medingen.
In the five year old division, which featured a starters' line of 42 horses, it was American Lisa Wilcox who topped the class with an 8.7 score aboard the Oldenburg stallion Rubinero (by Rubinstein). Placing second with 8.6 was the already qualified pair Dr Ulf Möller and Destination. The bay mare by Don Gregory was sold to P.S.I at the 2004 Vechta Spring Elite Auction. In third position was another Vechta auction horse, Royal Gala under Andreas Homuth (8.5). Lisa Wilcox also finished fourth aboard Relevant's full brother Revan with 8.3.
In the six year old division, Klosterhof Medingen's Burkhard Wahler dominated the class aboard the licensed breeding stallion Depardieau (by De Niro). With an 8.2 score, Wahler defeated PSI's Insa Hansen on Who is Who. Wahler and Hansen were the only two riders in the 6-year old class in Rastede that scored 8.0 or higher.
The show in Rastede was also a BuCha qualifier for 3 and 4-year old Oldenburg bred dressage horses. Worth noting is that Marta Kaufmann's Uniqua qualified under Kira Wulferding. Uniqua was the 2003 Reserve Champion at the Oldenburg Elite Mare Show and sold for 100,000 euro to the American Marta Kaufmann at the Vechta Spring Auction. Wulferding is training and competing the chestnut mare Uniqua under the name "D'Amour."
The following mounts will be going to Warendorf.
3-yo Stallions
Don Kennedy (by Donnerhall-Kennedy/T.) under Anja Engelbart 
Serano Gold (by Sandro Hit-Grundstein II) under Heiko Klausing 
3-yo Mares and Geldings
Damenwahl (by Donnerhall) under Eva Möller 
Silhouette (by Sandro Hit-Weltmeyer) under Ralf Hilliges 
Reserve: Queeny (by Quattro B-Andiamo) under Angela Schrandt 
Reserve: Rosa Bianca (by Royal Diamond-Fair Play) under Hermann Gerdes
4-yo Stallions
San Rubin (by Sandro Hit-Rubinstein) under Dr. Ulf Möller 
Donnerball (by Donnerhall-Alabaster) under Eva-Maria Willenborg 
4-yo Mares and Geldings
Devils bride (by Don Primero-Castro) under Stefanie Hein 
Per Du (by Pik Pavarotti-Andrew) under Stefanie Kerner 
Uniqua (by De Niro-Figaro) under Kira Wulferding 
Reserve: Rhapsodie Queen (by De Niro-Lord Liberty G) under Clemens von Merveldt 
5-year old Dressage Horse BuCha Qualifier
1. Lisa Wilcox - Rubinero - 8.7 Q
2. Ulf Möller - Destination - 8.6 Q
3. Andreas Homuth - Royal Gala - 8.5 Q
4. Lisa Wilcox - Revan - 8.3 Q
4. Jan Dirk Giesselmann - Rainman - 8.3 Q
6. Sabine Egbers - Dornfelder - 8.2 Q
6. Kathrin Meyer zu Strohen - Kaiserdom - 8.2 Q
8. Maike Luhring - Laurentio - 8.1 Q
8. Sandra Kotter - Dr Doolittle - 8.1 Q
8. Burkhard Wahler - Donautanz - 8.1 Q
11. Christoph Koschel - Lopez - 8.0 Q
11. Sabine Egbers - Berlinale T - 8.0 Q
11. Stefanie Kerner - Landscape - 8.0 Q
14. Marita Kroger - Inselgirl - 7.8
14. Friederike Brunger - Donna Romana - 7.8
16. Miriam Henschke - Don Capone - 7.7
17. Sabine Egbers - Limited Edition - 7.6
17. Alexandra Mund Haider - Boromir - 7.6
19. Peter Kohc - Lady Sinclare - 7.5
19. Sandra Buhrmann - Sir Tender - 7.5
21. Anne Horstmann - Luke Skywalker - 7.4
21. Jan Frieling - Roosevelt - 7.4
21. Josef Freese - Plaisir Rubin - 7.4
24. Marion Brand - Dux - 7.3
24. Katharina Suhlmann - Chateau K - 7.3
24. Yvonne Tilke - Don Jueves - 7.3
27. Iris Fischer - Sir Lui - 7.2
27. Kaatja Schurig - Dream of Me - 7.2
27. Ruth Hannover - Ron William - 7.2
30. Sylla Holtkamp Endemann - Lorenz - 7.1
30. Carsten Willms - Summersby - 7.1
32. Britta Siemer - World Dancer - 7.0
33. Kirsten Herfeld - Forrest Gump - 6.9
34. Ruth Hannover - Don Chiccolino - 6.8
35. John Amber - K2 - 6.7
36. Josef Freese - High Angel - 6.6
37. Sylla Holtkamp Endemann - Sheila - 6.5
38. Kirsten Bielefeldt - Cathedral - 6.3
39. Ruth Hannover - Bogner - 6.2
40. Heidi Knuppel - Laureena - 6.0
41. Anja Raffel Schwepe - Pazzesco S - 5.8
42. Lydia Jekewitz - Marleen - 5.7
6-year old Dressage Horse BuCha Qualifier
1. Burkhard Wahler - Depardieau - 8.2 Q
2. Insa Hansen - Who is Who - 8.0 Q
3. Kathrin Beneke Backhaus - Armani B - 7.9
4. Ulf Möller - Love Spirit - 7.8
5. Jan Dirk Giesselmann - Rossignol - 7.7
6. Insa Hansen - Welpe's Countess - 7.6
7. Dieter Weichert - Fiderglanz - 7.5
8. Felicitas Schulz - Donnerloh - 7.4
9. Dieter Weichert - Amusant - 7.3
10. Yvonne Tilke - Gaya TSF - 7.1
11. Andreas Homuth - Dexter - 7.0
12. Maike Luhring - Farewell - 6.9
13. Annika Grupe - Ron Bacardi - 6.8
14. Frank Gunther - Wig Wam - 6.8
15. Ilena Muller - Rabenstein - 6.0
16. Katja Westendarp - Sir George - 5.8
17. Holger Fischer - Sky Dancer - 4.0
18. Claudia Thiemann - Sergio Pepperone - RET
Back to the 2004 Bundeschampionate Index