2004 Bundeschampionate - Qualifiers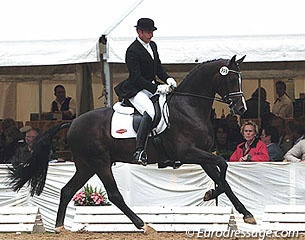 The Hanoverian Verband has selected the 3- and 4-year olds that will represent the Hanoverian breed in the Riding Horse Tests at the 2004 Bundeschampionate, the German Young Horse Championships, in Warendorf, Germany.
Two Hanoverians qualified without having to go through the selection procedure because they won a medal at last year's Championships. They are Donnerhall Junior and Rusty. The chestnut stallion Rusty, owned by Gestut Sprehe, was ridden by Julia Katharina von Platen last year, but will now be competed by Trophy Magnet Holga Finken.
Including in thethe 3-year old Hanoverian stallion group is also Rosentanz, the dark bay licensed stallion by Rohdiamant x Sao Paulo, who was a premium stallion and the auction price highlight at the 2003 Hanoverian Stallion Licensing. Owner Lone Boegh Henriksen is ecstatic about Rosentanz super 2004 show season. "He was reserve champion at the licensing in Denmark and he won the 30-day Stallion Performance Test in Munster. Now he qualified for the Bundeschampionate. It's been a great year," Boeg Henriksen said. Rosentanz only started breeding in June but has already covered more than 70 mares in two month's time. The stallion is claimed to be extremely fertile, as almost every mare and even the problem-cases have proven to be in foal after using the first dosis.
Image copyrighted: Astrid Appels - No Reproduction Allowed
The selected Hanoverians are:
 
 
 
3-year old Mares and Geldings
 
 
Saigon - Sandro Hit/Werther 
B.: Heinrich Gießelmann, Barver 
O.: breeder 
R.: Jan-Dirk Gießelmann 

Donna Castania - Don Primero/Calypso II 
B.: Helmut G. Heidmeyer, Rahden 
O.: Wilhelm Schwierking, Barver 
R.: Jan-Dirk Gießelmann 

Hillary - Hohenstein/Pik Bube 
B.: Hans-Heinrich Müller, Stade 
O.: Hans-Henning v.d. Decken, Stade 
R.: Meike Möller
La Perla - Londonderry/Weltmeyer 
B.: Johannes Sabel, Gersten 
O.: Frank Pistner, Bad Homburg 
R.: Holga Finken 

Damiano - Donnerhall/Brentano II 
B.: ZG Ilse-Marie u. Bernd Busemann, Dörpen 
O.: Heinrich Ramsbrock, Menslage 
R.: Hella Kuntz 

Legolas - Londonderry/Wümmestern (Reserve) 
B.: Helmut Wilmsmeier, Bad Oeynhausen 
O.: Bernd Lauderbach, Emmelshausen 
R.: Anne Reher
 
 
 
 
 
3-year old Stallions
 
 
Desperados - De Niro/Wolkenstein II 
B.: Herbert Schütt, Hemmoor 
O.: GestütSprehe, Löningen 
R.: Holga Finken 

Wilmington - Waikiki/Fabriano 
B.: Heinrich Meyer, Vechelde 
O.: Lucile Broadley, Chapel Hill, USA 
R.: Iris Jonetat 

Ronan Keating - Riccione/Match AA 
B.: Hans-Hermann Bley, Ganderkesee 
O.: breeder 
R.: Sigi Behr
Rosentanz - Rohdiamant/Sao Paulo 
B.: Josef Brinkemöller, Georgsmarienhütte 
O.: Lone Boegh Henriken, Hillerod, DK 
R.: Johannes Westendarp 

White Kiss - White Star/Bolero (Reserve) 
B.: Günter Wahlen, Selsingen 
O.: Janick Schleypen, Neuss 
R.: Marion Schleypen 





 
 
 
 
 
4-year old Mares and Geldings
 
 
Liaison - Londonderry/Gralswächter 
B.: F. Manfrahs, Scharnebeck 
O.: Gestüt Höftehof, Meppen 
R.: Christiane Wiens 

Dea - Daidalos/Arkansas 
B: Rudolf Gauglitz, Moormerland 
O.: breeder 
R.: Dr. Nicole Deinzer 

Lawarino M - Londonderry/Blue Grenadier xx 
B.: ZG Hanny-Gustel u. Karl Moormann, Wettrup 
O.: breeders 
R.: Stefanie Kerner 

Roccella - Rotspon/Matula 
ZB.: ZG Ursula u. Erhard Wendorf, Eschede 
O.: Erika Bünger, Oetzen 
R.: Andreas Homuth 

Wallander - Weltmeyer/Brentano II 
B.: Hermann Thumann, Badbergen 
O.: Heinrich Ramsbrock, Menslage 
R.: Hella Kuntz

qualified
Donnerhall Junior -. Donnerhall/Weltmeyer 
B.: A. Hoffmann, Delmenhorst 
O.: G. Brenninkmeyer, Hamburg 
R.: Kathrin Meyer zu Strohen

 
 
 
 
 
4-year old Stallions
 
 
Royal Highness - Regazzoni/Dream of Glory 
B.: Rolf Schulze, Kiel 
O.: Axel Windeler, Verden-Walle 
R.: Anna-Sophie Fiebelkorn 

Wanthano -Wolkentanz II/Rubinstein I 
B.: Heinz Lenter, Meppen 
O.: Sonja Knoop, Meppen 
R.: Christiane Wiens
Riverside - Regazzoni/Donnerhall (Reserve) 
B.: Ingo Pape, Hemmoor 
O.: breeder 
R.: Gillian Duke

qualified
Rusty - Rubinstein I/Weltmeyer 
B.: Eberhard Hennings, Petershagen 
O.: Gestüt Sprehe, Löningen 
R.: Holga Finken
Back to the 2004 Bundeschampionate Index