2004 Bundeschampionate - Qualifiers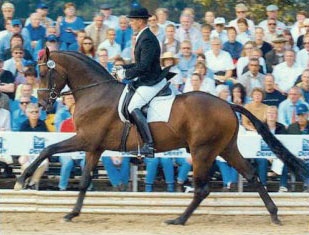 Christian Flamm had a double hit at the Bundeschampionate Qualifier at Gestut Kempke Hof in Plaaz, Germany, the weekend of July 17-18, 2004. Aboard D'Amour and Samba Hit I
, Flamm rode two winning rides in the 5 and 6-year old Bundeschampionate qualifying class.
In the five-year old division, Christian Flamm scored 8.80 aboard D'Amour, an Oldenburg bred Dream of Heidelberg x Plaisir d'Amour offspring. Jorg Ladwig followed in second position aboard the Brandenburg bred Quaterman, the only licensed offspring of Quando Quando to date (Quantchen Gluck got sold to the U.S and gelded). Kempke Hof's chief rider Ronald Luders finished in third place with Sir Willson (Sandro Hit x Canaster), receiving 8.1 from the judges.
Flamm excelled also in the 6-year old division, this time aboard Poetin's full (licensed) brother Samba Hit (Sandro Hit x Brentano II). At the BuCha qualifier in Schonow, Flamm and Samba Hit had already scored a 9.0, but in Plaaz they had to settle for 8.9. Samba Hit is owned by the Brandenburg State Stud. Ronald Luders ranked second with 8.8 on the breeding stallion Dream of Heidelberg II (Donnerschlag x Heidelberg) but this combination already qualified for Warendorf at the show in Dallgow.
5-year old Dressage Horses
1. Christian Flamm - D'Amour 22 - 8.80 Q
2. Jörg Ladwig - Quaterman 2 - 8.50 Q
3. Ronald Lüders - Sir Willson - 8.10 Q
4. Sandra Bührmann - Sir Tender - 7.20
5. Sylva Tkotsch - Annastasia 12 - 7.10
6. Eva Oetjens - Dream of Burg - 6.80
7. Elmar Wissling - Durango 17 - 6.50
8. Maike Lühring - Laurentio 3 - 6.40
6-year old Dressage Horses
1. Christian Flamm - Samba Hit - 8.90
2. Ronald Lüders - Dream of Heidelberg II - 8.80
3. Maike Lühring - Farewell 2 - 7.40
4. Susanne Wolff - Dewey - 6.60
5. Torsten Schmiedt - White Field - 6.40
6. Nadja Engel - Willusch - 5.80
Back to the 2004 Bundeschampionate Index