2004 CDIO Aachen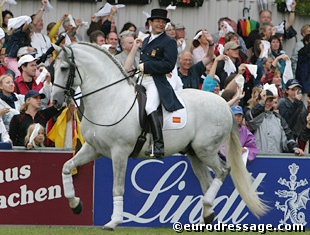 The Spanish Grand Prix dressage riders have had to battle against much pride and prejudice to earn a distinguished place in the warmblood world of dressage.
Winning the bronze team medal at the 2002 World Equestrian Games, Spain became a respected and wanted nation at dressage shows in the world. Holding this respect in hand, Spain is continuing the revolution in dressage; it is making the sport more attractive.
Leading man of the Spanish dressage team is Rafael Soto and Invasor. In the Kur to Music at Aachen he was the only person to wake up the crowds and make the class actually fun to watch. While riding his test, Soto was looking at the people in the stands and not at his horse, drawing everyone's attention. Not only did he release dressage in Aachen from its strict, serious straitjacket, but he also provided comic relief. One could not help bursting out in laughter when seeing Soto make funny faces to his audience.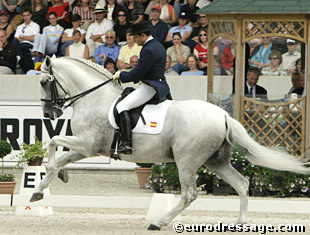 In the meantime, Invasor was showing a brilliant piaffe passage tour and a superb extended canter giving full gas. During Soto's final passage on the center line, the crowds even started clapping in the rhythm of Invasor's movements. Everyone was having a blast!
Soto scored 76.850% and placed seventh in the freestyle. Had he not had a mistake in the 2x tempi's, dropped out of canter after a pirouette and showed a more balanced extended trot, than Soto could have scored even higher.
Viva Espania for resuscitating the crowds at Aachen!
Photos © Astrid Appels