2004 CDIO Aachen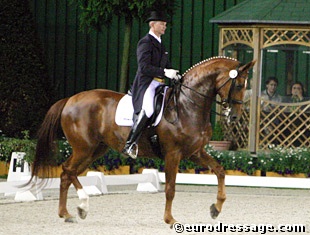 For Hubertus Schmidt Aachen was a very important show. Never before has he been selected on an Olympic team despite having had a couple of very good dressage horses (e.g. My Fair Lady)
and though he was nominated for the German Olympic Short List, chef d'equipe Holger Schmezer did not let him show at Aachen in the CDIO tour in which the "unofficial" Olympic teams of Germany, The Netherlands and the U.S. were riding.
So Schmidt had to outscore either Ann Kathrin Linsenhoff, Martin Schaudt or Heike Kemmer in the CDI Tour to claim a definite spot on the German Olympic Team. And he did it!!
In the Grand Prix, Schmidt placed second with a 73.167% behind Guenter Seidel on Aragon. In the Special, Schmidt and his chestnut Hanoverian bested the field with 73.160%.
Wansuele Suerte, by Warkant x Wachmann, impressed everyone with her featherlight passage, smooth piaffe-passage transitions and beautiful pirouettes. The walk could have shown more overtrack and in the first trot half pass to the right, the mare was not 100% in balance.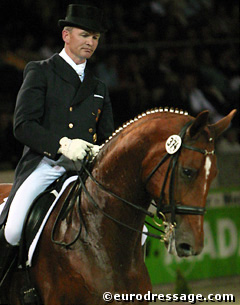 Watching Hubertus Schmidt on Wansuela is a pleasure to the eye. This combination rays softness, looseness, willingness to please and overall happiness in their work. The horse gets patted after she's done a good exercise; everything just looks stylish and classical.
With his 73.160% mark in the Special, Schmidt scored considerably better than Ann Kathrin Linsenhoff on Renoir. Linsenhoff got 70.360% in her CDIO G.P. Special ride.
Following the CDIO Aachen, Hubertus Schmidt has been officially nominated for the German Olympic Team. He will join Ulla Salzgeber, Heike Kemmer and Martin Schaudt to Athens. The reserve rider will be Ann Kathrin Linsenhoff on Wahajama.
Photo © Astrid Appels