2004 World Championships for Young Dressage Horses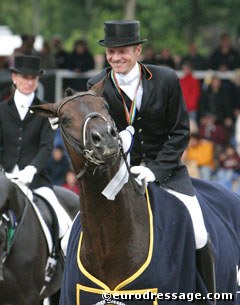 Dressage is sport that has to deal much with criticism, mainly because it's based on judging, the subjective opinion of a panel of maximum five judges.
At small regional shows you can sometimes break your head over the illogical scoring of a judge, but when the importance of a show grows, the experience and professionalism of the judges' panel does as well. So at World Championships one expects to get fair judging. Usually this is the case, but sometimes it is not.. there are several examples of the temporary purple haze in front of the judges eyes when certain riders ride. At the 2004 World Championships for Young Dressage Horses, the judging was right on and the 5 and 6-year old panel deserves much credit for their job well done.. Except, with one combination they seriously went off course.
Finishing second in the 6-year old division was the KWPN licensed stallion Magic Rodrigo (Indorado x Stuyvesant xx) but I can't understand why the judges placed this horse second. With all respect to the owner Cok Mudde of Magic Stables and his rider Edward Gal, the new Dutch Grand Prix dressage champion, who presented the dark bay stallion with style, but Rodrigo's silver medal at the World Championships was not deserved.
Of course Magic Rodrigo is not a bad horse, in fact he's quite a good dressage horse, but the fifth place he got in the first round with an 8,60 score would have been his rightful place in the finals as well.
In the first qualifier, Rodrigo showed good trot work, but could sometimes show more length in the neck. One flying change to the right was not an immediate response to the aids of the rider. In the walk he could show more overtrack. Nevertheless, Gal had a good ride in round one and his fifth place showed correct judging.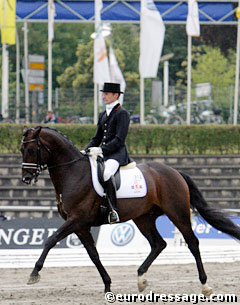 However, in the finals, Rodrigo was not in the same shape. His trot was just not frisky. The horse barely showed an extended trot, and on the second diagonal his extended trot was on two tracks. The extended canter was also not enough. The horses did well in the collected work, but when it came to opening the frame, nothing happened. One flying change was late, the other three were good.
When the judges announced that "in the trot work the horse is loose through the body and cooperative to the aids," I felt a hair bal belching in my throat. Gal won the silver medal with an 8.70 score in total. Good for the horse, good for the owner and rider, good for his breedings, but dressage- and judgingwise it didn't make sense.
Text and photo copyrighted Astrid Appels/Eurodressage - No reproduction allowed!