2004 World Championships for Young Dressage Horses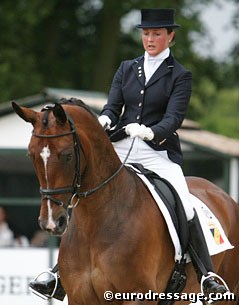 It's always such a great feeling when a little mouse beats the elephant! The first time Eurodressage saw Daianira van de Helle at the 2003 Belgian Young Horse Championships, we knew it right away
; this was a horse that could finish at the top of the ranking at the World Championships or even win a medal at the German Bundeschampionate.
Our tiny, insignificant little dressage country, which struggles so hard to mean something in dressage in Europe, but is constantly obstructed by silly, capriciously changing rules and regulations which make the organization of dressage in Belgium kafkaesque, finally had a big triumph at the 2004 World Championships for Dressage Horses.
Daianira van de Helle, a gorgeous Hanoverian bred mare by Dream of Glory out of a Ritual dam, finished 6th behind all the German heavy weights at the World Championships.
Professionally presented by Vicky Smits, Daianira van de Helle scored 8.14 in the first round finishing 12th and just making it into the finals. The judges gave her a 9.00 for her divine, elevated and active trot and a 8.30 for her good canter. Only the walk scored a lower 6.70 mark because it was tense and did not show enough overtrack.
"Mariette Withages told us that if Vicky would ride the same and improve the walk a bit more, than she could do really well in the finals," Vicky's proud father told Eurodressage. And Withages was right. In the finals, Smits and Daianira, who is owned by Angela Jansen and Stallion Station van de Helle in Belgium, excelled with a pique performance of 8.46 points and a 6th place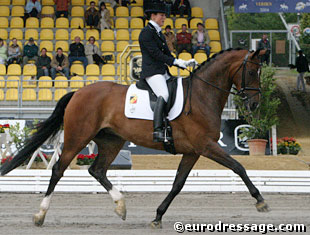 The judges praised Daianira for her "lovely, active trot, good cadence and balance (9.3). The canter is active, well off the ground (8.6). The walk could be more ground covering (7.0). This is a really elastic mare. We had a very good impression," Jennie Loriston Clarke said.
While Eurodressage was thrilled to see Florencio win, we were actually the most proud of this Belgium triumph in Verden. Way to go!
Back One Page / Next Page of the Report
Text and photos copyrighted Astrid Appels/Eurodressage - No reproduction allowed!