2004 World Championships for Young Dressage Horses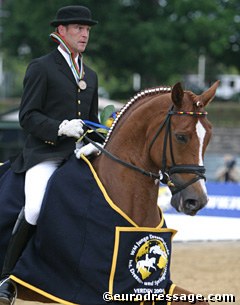 I love underdogs. Horses you never heard of in your life and then wham, they smack into your eye with such force and effect like a fly unexpectedly hitting your iris.
Of course, the fly is incredibly annoying, but the underdog springing up secretly like a mushroom has so much magic to it that you can only feel excitement. The underdog at the 2004 World Championships was Fazzino, a Westfalian bred Florestan x Rivellino gelding, ridden by Arnd Erben.
This gorgeous chestnut gelding is very refined, has a beautiful high set neck, a delightful face and lovely active hind legs. Bred by Helga Grosse Lembeck-Wahmann from Bochum and owned by Michaela and Jörg Habenicht from Lippetal, Germany, Fazzino finished second in the first round of the world young horse championship.
Fazzino had to go into the ring fourth to last combination of the day at 8.30 PM on Friday. The footing was horrible, wet, deep, slippery after a day of torrential rain storms. While other horses lost balance struggling through this World War I trench-footing, Fazzino danced on the mud with elfish light-footedness. The chestnut gelding excelled in his traversal movements and overall rhythm in walk, trot and canter. He scored 9.0 for trot and canter and 8.20 for walk. His overall score of 8.82 placed him second in the first round.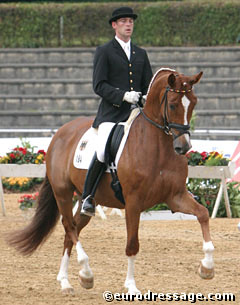 In the Finals on Sunday, Fazzino proved himself to be a more than average horse. He was a bit more tense in the big stadium ring, but gave a top quality general impression. The judges commented: "His trot is elastic (9.0), his canter uphill, his walk is well ridden but can show more overtrack. The horse could sometimes be a bit more rounder through the neck. Fazzino is a horse with a lot of perspective and shows dynamic engagement." Plenty of superlatives to describe this star. With 8.68 in total he won the bronze medal.
Owner Jörg Habenicht was brimming with excitement over his horse's top achievement in Verden. "Unfortunately, Fazzino didn't win the finals on Sunday, but we are very happy and very proud of him. French Kiss was the deserved winner," Habenicht said.
Fazzino has always been the underdog on the show scene. "They (the Westfalian Verband) didn't want him for the licensing, they didn't take him for the auction and refused him for the CHIO Sales," Habenicht said. Those days will be over now. With a bronze medal at the 2004 World Championships on his list of achievements, Fazzino will be a hot gadget on the market.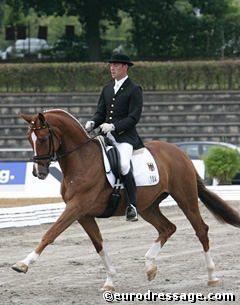 The Westfalian Verband must have lost their prognostic vision on Fazzino, but they were right about one thing: the stallion Florestan (Fidelio x Rheingold). Six Florestans qualified for the World Championships, six of them qualified for the finals and three of them won a medal, of which two got the gold. The 2004 World Championships for Young Dressage Horses have been officially renamed "Florestan Festival 2004."
WBFSH breeding director Jan Pedersen said, "results have shown that breeding is not a coincidence. Both winners were Florestans. It should be a motivation for the breeders." With so much successful offspring in Verden, and already so many get qualified for this year's Bundeschampionate, Florestan can be considered the best dressage horse producer of the moment.
Text and photo copyrighted Astrid Appels/Eurodressage - No reproduction allowed!