2004 World Championships for Young Dressage Horses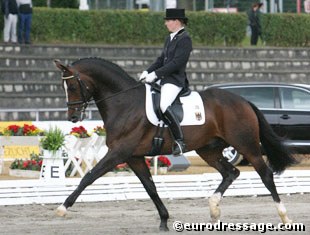 Finishing fourth must be Susan Draper's World Championships' curse. At the 2003 Championships, Draper and the gorgeous Baroncelli finished fourth in the 5-year old finals with 8.5.
This year it looked like she could grab the title, but placed fourth once again.
Strikingly, the signs for victory were there. In the first round, Draper presented the Hanoverian licensed stallion by Bergamon x Matcho AA with great finesse. The dark bay stallion was correctly ridden and showed three decent basic gaits. They won the class with 8.88, but felt the breeze of Fazzino in their neck. The only thing that was missing in their qualifier ride was some real electric power behind, but we all hoped that Draper would get an electric shock in the Finals and push her horse to its potential.
Unfortunately this was not the case on Sunday. The elegant Baroncelli didn't look as dynamic and elastic as on the first day of competition. The extended canter was not enough engaged, and the judges voiced this opinion in their final comment. "Baroncelli has a loose flowing trot but could show more engagement. His canter is uphill but can show more frame opening. In the traversal movements he lost his balance a bit," the judges said. 8.66 and a fourth place was the bittersweet verdict.
No Conquest for Conservative King Arthur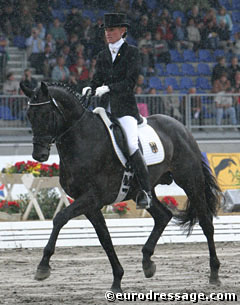 King Arthur is one of the few horses so far qualified for the 2004 Bundeschampionate with a score over 9.0. Therefore, hopes were high that this black Trakehner stallion would pique at the World Championships as well.
In the first round, King Arthur (Buddenbrock x Consul) showed a balanced, light footed trot while the rider kept a soft contact with the bit. His rider and owner, Petra Wilm of Gestut Tasdorf, rode a safe test taking no risk while presenting her Trakehner Licensing Champion with confidence in all three gaits. Only the flying changes were a stumbling block in the test. Nevertheless, their 8.58 score and 6th place opened perspectives for the finals.
Trained by Ernst Hoyos, Petra Wilm and King Arthur needed to take risks in the finals to rank in the top three. The horse definitely has to quality to go to the top, but he needs to be convinced of his potential.
Unfortunately, Wilm did not show the bravery to ride with gusto and kept it to a conservative round. The extended canter and trot were, therefore, a bit dull, and only the final extended canter covered some ground. An 8.06 score and seventh overall place was the result.
The judges praised the combination for the walk, which was forward from the hindquarters. The canter, however, did not show sufficient self carriage. In general, the sensitive King Arthur, who looks very thoroughbredy, needed more engagement from behind.
Text and photos copyrighted Astrid Appels/Eurodressage - No reproduction allowed!