2004 World Championships for Young Dressage Horses
"Unfortunately we have to eliminate this horse," Jennie Loriston-Clarke announced during Anja Engelbart and Rosario's Finals' ride on Sunday. "The horse has bitten his tongue and is bleeding from the mouth," judge Loriston-Clarke added. "Rosario is a strong, powerful horse. This is a sad day."
Engelbart had a difficult time suppressing her disappointment and utter sadness after her disqualification. Rosario was considered to be a medal hopeful in the 5-year old division at the 2004 World Championships and showed his potential for winning one in the first round.
Rosario, a black Oldenburg stallion by Rubinstein x Castro, finished third in the first round with a wonderful 9.04 score. Rosario gave a confident and confirmed impression during his qualifier ride. The horses trotted with much rhythm and power from behind (score 9.2), while staying nicely uphill only the bit.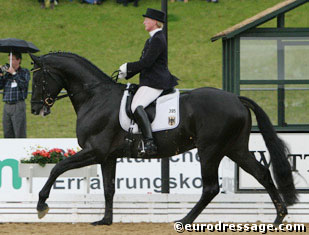 In the canter, Rosario moved with much engagement and was ground covering (9.0). In the walk, he excelled by showing great over track (9.0). For submission and overall impression, Rosario scored also 9.0 marks.
Engelbart, who is the chief dressage rider at Paul Schockemohle's stallion station in Muhlen, had all the aces in her hand for a top three place in the Finals. She started her trot tour in the Finals on Sunday with much power and cadence. Rosario was nicely on the bit and very uphill. If he had continued his test in that frame, the bronze medal would have been a fact for him. Hopefully, Engelbart will have the spirit and perseverance to return next year with Rosario in the 6-year old division.
Cold Shower for Holga Finken and Belissimo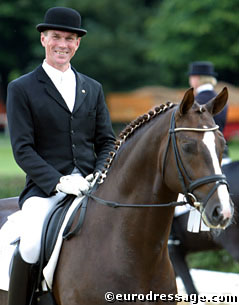 Definitely considered to be one of the medal favorites in the 5-year old division of the World Championships were young horse specialist Holga Finken and the Rhinelander stallion Belissimo. Unfortunately, the 2004 Verden experience was a cold awakening shower for them, a reality check that being a favorite does not always mean being the champion.
In the first qualifying round, Belissimo (by Beltain x Romadour II) lived up to his name and put down a beautiful test. Walk, trot and canter were all very forward, elegant and rhythmical. His supple walk showed good overtrack and scored 9.0, his trot was very uphill (9.3) and his canter, which is ground covering, scored a 9.6. The overall first round score was 9.38 which placed them second. All the stars were in the right place for Finken and Belissimo to win at least the silver the next day.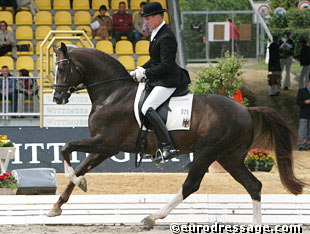 But Alas, it wasn't meant to be. Finken, who scored his 8th Bundeschampionate title in his career in September 2003 aboard Belissimo, had to compete right after Florencio and Belissimo's gaits just didn't look that spectacular anymore.
Furthermore, Finken rode a program error in the finals, forgetting to do the pirouette in walk at C. The bell rang, Finken got distracted, rode the kurzkehrt, but from then experienced a loss of concentration. Funnily, he whispered interrogatively at Hans Heinrich Meyer zu Strohen, who was standing on the sideline, where he had to make the transition to canter. Despite this loss of concentration, Belissimo showed his best canter in the finals, wonderfully uphill and with the hind legs reaching far under the body. Also worth mentioning is Finken's light and steady contact with the bit.
Next year better Belissimo.
Back One Page / Next Page of the Report