2004 World Championships for Young Dressage Horses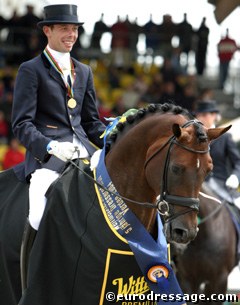 It has been five years in the history of the World Championships for Young Dressage Horses since the crowds and judges have gone this wild about a horse.
In 1999, the black Sandro Hit made the audience faint in the stands with his beauty and elegance. This year the Westfalian stallion Florencio was the Don Juan of the Championships.
Though the black shiny star FBW French Kiss won the 6-year old class, it was the bay "elastique" Florencio who stole the heart of every single person that attended the show in Verden. Not one person at the show could mention a negative aspect of this drop dead gorgeous stallion.
Florencio convincingly won the first round with a 9.66 total, scoring 9.5 for walk and 9.8 for trot and canter. The Westfalian stallion was already check marked as the favorite for the title, but after his earthshaking first round, there was no doubt left that he would become the winner and produce a monster score in the Finals on Sunday.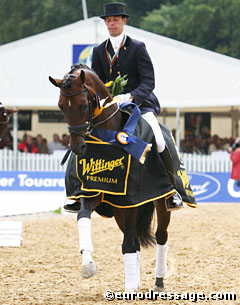 Under Dutch rider Hans Peter Minderhoud, Florencio ran a breath taking final round in the big stadium in Verden. The crowds went absolute berserk when "Happie" and Florencio halted at X for his end salute. Cheering, clapping, stamping, whistling, the ruckus kept on going for minutes and minutes. Judge Jennie Loriston-Clarke, who did a wonderful job commenting after each test, said,"OK, we know you like this horse, we do too!"
Florencio and Hans Peter Minderhoud scored the highest marks every given to a combination at the World Championships for young horses combination. Loriston-Clarke explained it by saying, "this is a really exciting combination. We give him 10 for the canter because it's so uphill and with engagement. He gets a 9.7 for the trot and not a 10 because he was a bit too much bent to the left. The walk gets a 9.8 because it shows so much overtrack." Minderhoud and Florencio left the ring getting a standing ovation from the crowd and the additional "What a wonderful horse" from the judges.
Hans Peter Minderhoud Makes History with Florencio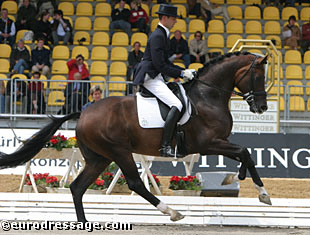 Not only did Florencio score the highest marks the judges have ever decorated a horse with at the World Championships, but Hans Peter Minderhoud has also won his third World Champion's title in his career. In 2002 and 2003 Minderhoud won the championships aboard the NRPS bred Rubels (by Rafurstinels).
Though Hans Peter scored higher with Florencio, you won't hear the Dutch rider say that Florencio is better. "Both horses are very good," Minderhoud said. "With Rubels I have an emotional bond. I found him myself when he was two and that's more special to me. I got Florencio when he was four but he often went back to Germany for breeding."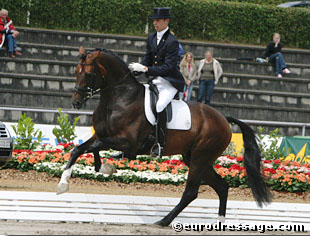 Only two horses have ever scored a 10 at the World Championships. This year, Florencio got a 10 for his canter, last year the Brandenburg mare Poetin got 10 for her trot.
Though Poetin is an astonishing dressage horse with the most breath taking trot, Florencio seems to be a more complete dressage horse, excelling in all three gaits. Poetin "only" scored 7 for her walk and a 9.5 for her canter.
However, it is worth mentioning that Poetin achieved these marks in the 6-year old division, and not in the 5-year old class like Florencio. Furthermore, the Hanoverian mare Cherie (by Don Primero) did score an overall 9.8 for her winning ride in the 6-year old finals at the 2002 World Championships. In 2000, 5-year old Keystone Dimaggio got 9.50 in the finals at the World Championships in Arnheim.
Minderhoud Deserving Credit for Training Eye Catcher Florencio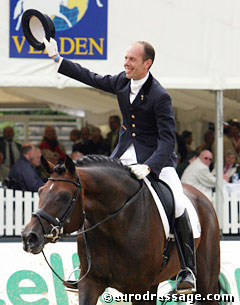 The first time I saw Florencio in the flesh was at the Althengst Parade in Vechta in November 2003. I was surprised to see the Dutch rider Hans Peter Minderhoud aboard the horse. After having seen a procession of German stallions classically ridden under German stallion, it was quite surprising to see this young Westfalian horse presented the Dutch way.
In the Althengst Parade coverage, Eurodressage wrote: "Hans Peter Minderhoud presented the Florestan offspring Florencio. His Dutch way of riding with very low, fixed hands and a very curled up neck stood out in all other German trained stallions. Florencio is gifted with a fantastic canter."
It's been nine months since the parade in Vechta, and the pregnancy period is over. Minderhoud has delivered a Florencio who no longer is tight in the neck. He has been given the freedom to breathe. and the horse has completely loosened up in his body. He is now a gummi ball bouncing off the ground.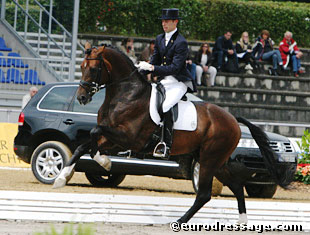 His canter has changed from a "fantastic canter" into "the best one one has ever seen." Florencio now canters "as if he has been shot from a canon," a friend told me. So much engagement, so much scope and so ground covering. It makes you gasp! In general, the horse moves with elasticity, suppleness and throughness from tail to mouth.
Minderhoud has exceeded my expectations and presented Florencio in a very professional, and relaxed way and deserves only compliments for his riding job; come to think of it, taking Minderhoud's three World Champion's titles into consideration, one can say that he has become the Dutch version of Holga Finken and Dr. Ulf Moeller - the "young horse specialists."
Paul Schockemohle Buys Share in Florencio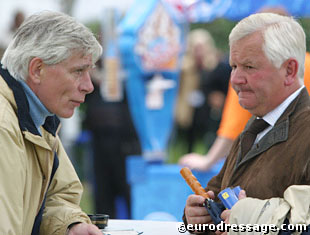 It took only one hour after Florencio's victory in the first qualifier for the rumor to spread on the Verden show grounds that Florencia has been sold to Performance Sales International (PSI). This news was led to believe because P.S.I. purchased Poetin last year after the World Championships. So why wouldn't they buy this year's highlight.
"It's something P.S.I. could do," PSI spokesperson Dr. Ulf Möller said. However Möller denied the rumours on the show ground Friday evening. "Florencio has not been bought by P.S.I. Mr Kassellmann has told me that on the phone."
Where there is smoke, there usually is fire. So two days later, the news has been confirmed that Paul Schockemohle has in fact purchased a 50% share in Florencio. The owners of the Westfalian stallion were the Dutch Henk Nijhoff and Eugene Reesink, and not Stallion Station Kathmann as listed in the official programme.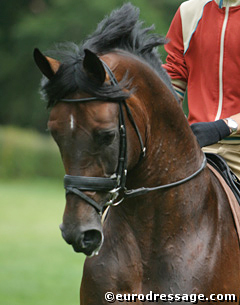 Eugene Reesink set the record straight. "I have sold my half of Florencio to Paul Schockemohle and not P.S.I. The stallion will not be sold over the auction in December. Henk Nijhoff still owns the other half," Reesink said. "Schockemohle has bought the stallion for his own mares, but Kathmann will still be collecting and distributing his semen." On Saturday evening, Schockemohle did make an offer to buy the stallion for the auction, but the Dutch owners did not accept it because if he were to go to the auction, the offered money was not enough.
Eugene Reesink, a renowned horse dealer in the Netherlands, has had a financial hausse this year with his business. A couple of months ago he sold his Pavo Cup winning Robin Hood to American Grand Prix rider Susan Blinks, and he has now sold his share of Florencio to Schockemohle.
"We don't have a stallion station, so we preferred to have the money now instead of getting it through breedings," Reesink clarified, stating that he sold Florencio purely for financial reasons. "We're talking about a mega-amount of money."
Florencio's Discoverer is Frank van Dijck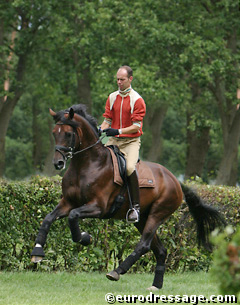 Eugene Reesink discovered Florencio as a foal at Frank van Dijck's in Lier, Belgium. The late Frank Van Dijck, who tragically passed away in a car accident in 2000, has been dealing with Reesink for many years and was a good friend of Reesink. Van Dijck had a great eye for foals, discovering Florett, who finished third at the Bundeschampionate, World Champion Florencio, Imke Bartels' Lancet, who's now a Dutch A-team Grand Prix horse, and Whisper, who finished 2nd at the Bundeschampionate, became Dutch Fourth level champion under Minderhoud and recently has been sold to Australia.
"Frank had incredibly good horses ," Reesink said. Florencio's victory at the World Championships is a wonderful tribute to Van Dijck and his talent for finding great horses. "I bought Florencio from him. He was at the time an expensive foal, so I asked Henk Nijhoff to partner with me on this foal because I really liked him," Reesink explained.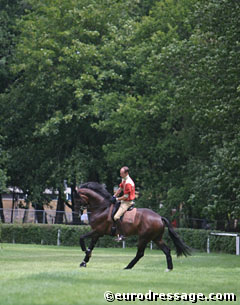 Florencio has always looked very immature. When he was presented at the licensing and even when he finished second in his 30-day test after Belissimo, he continued to look immature. "It was only this last year that he grew a lot and matured," Reesink said.
A lot of effort has been put into Florencio's career. "We wanted to prepare him really well for the World Championships, so he had to be put in training with Minderhoud. That meant also that we had to take him away from the stallion station at the end of May. Everyday we collected his semen in The Netherlands at 4.30 AM so that it could be at Kathmann's by 8.30 AM. It's hard work to keep up this rhythm for two months," Reesink said. As we know, hard work pays off!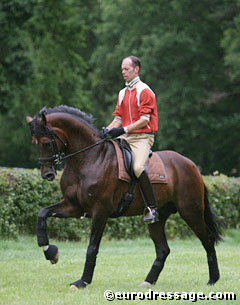 It was not difficult for Reesink to sell his new World Champion. Florencio was leased by Hengsthaltung Kathmann for a period of two years, which are over at the end of the 2004 breeding season. "When Robin Hood left, we had an empty stall in our barn, Florencio was always in Germany breeding, so I don't really had an emotional connection with this horse."
Florencio has five or six full brothers and sisters. "Number 2 is currently doing his 30-day test in Munster-Handorf, number 3 is with me in the field, number 4 is a mare, and Frank's father sold number five to a lady at his barn in Belgium. He still owns the dam," Reesink said.
Even though Florencio has partly been sold to Schockemohle, there won't be any drastic changes. "Hans Peter Minderhoud will continue riding him and Kathmann will still sell his semen," Reesink stated.
It'll be a flourishing year for Florencio...
Text and photo copyrighted Astrid Appels/Eurodressage - No reproduction allowed!