2004 World Championships for Young Dressage Horses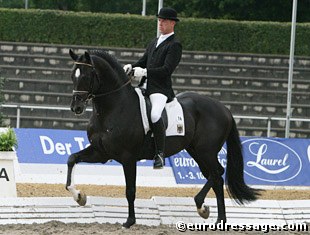 The bronze medal in the five-year old division went to Amidou, a Holsteiner licensed stallion presented by Dr. Ulf Möller. Though Amidou is mainly a show jumping bred stallion
with his Alcatraz x Langata Express xx bloodline, his career seems to lie in dressage.
Owned by Hof Kasselmann, Amidou tried to qualify twice for the Bundeschampionate under Miriam Henschke but unfortunately failed. When Dr. Ulf Möller took a seat in the saddle, the stallion improved considerably, qualifying for the World Championships and the Bundeschampionate in matter of weeks.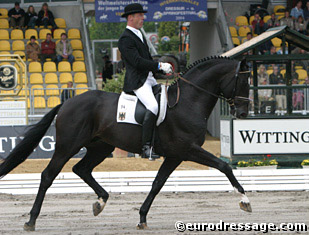 In the first qualifier, Amidou showed an active hind leg in the trot and a very round canter. He could, however, put the hindleg more under his body. Also, the transitions were not very clean. The judges gave Amidou a generous 8.82 with which he finished 6th in round one. "We had some problems in the circles, the footing was also quite slippery," Dr Möller explained, "but we had a good training session today (Saturday) so we'll see tomorrow."
And tomorrow went really well. In the Finals on Sunday, Möller and Amidou scored 8,98 in total, which ranked them in a third, bronze medal winning position. Amidou's trot was very rhythmical and balanced and his canter showed good ground covering. This more than decent performance owed much to the talent of rider Ulf Möller, more than to the overall dressagetalent of the horse.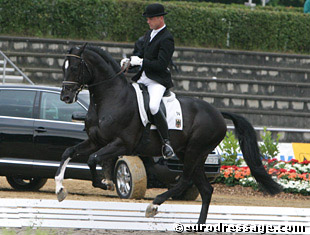 The judges praised Amidou for his active, cadenced trot with much looseness and freedom in the shoulder. His canter is well balanced, but the horse puts more weight in the left canter than in the right. The walk was free and "with purpose." Though the judges gave Amidou a 9 for submission, the transitions were again the major issue in the test. The canter-walk-canter transition was a bit difficult and in the canter-trot transition, Amidou went into walk.
Nevertheless, Amidou's Finals' ride was a huge improvement to Friday and credit should definitely go to his rider who kept the horse nicely tucked between his legs and in rhythm throughout the ride. The bronze medal at the 2004World Championships was, therefore, definitely in honor of Amidou's rideability and nice appearance under Dr. Möller.
Back One Page / Next Page of the Report