2004 Olympic Games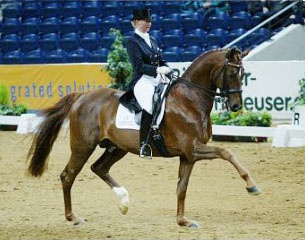 The Australian Equestrian Federation has nominated Kristy Oatley-Nist and Quando Quando to the Australian Olympic Committee to represent Australia as its sole Dressage combination at the Athens 2004 Olympic Games.
Oatley-Nist has been Australia's best performing rider this year.
Living and training at Gestut Gronwohldhof in Germany, Oatley Nist has competed at the 2004 World Cup Finals, winning the B-finals aboard her Oldenburg stallion Quando Quando (by Quattro B). Oatley-Nist was the expected nomination. Her only competitors for a ticket to the Olympics were Ricky MacMillan and Mary Hanna.
Image copyrighted - No reproduction allowed